Tatami mat Japanese modern design Kurume weave 6 fold type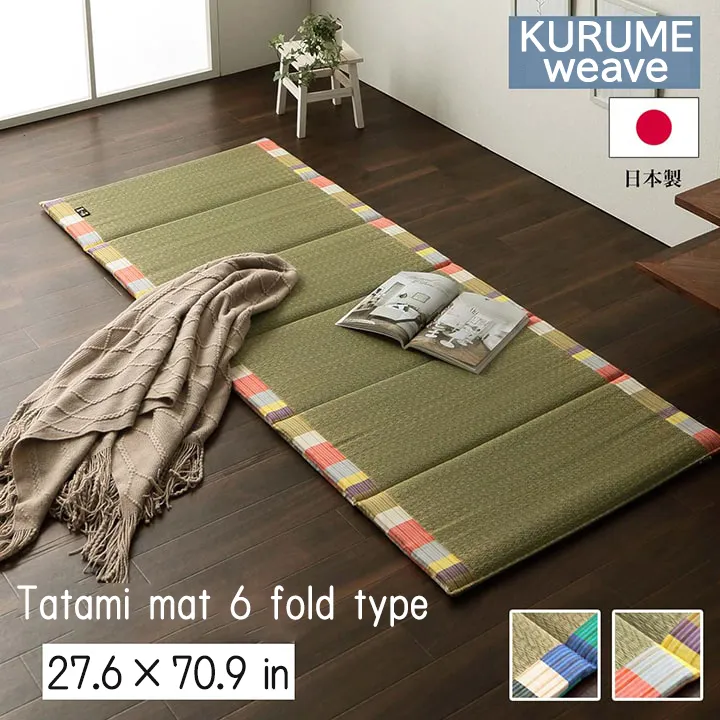 A Tatami mattress that combines Kukurume weaving, a traditional craft from the southern part of Fukuoka Prefecture, and Tatami's material "Rush Grass".
[Relax slowly]
Tatami Rush Nap mattress with Kurume weave fabric for the outer frame. Easy to use with bright colors that allow you to easily incorporate good old Japanese traditional culture into the modern age.
With Tatami's skilled craftsmanship and rustic, gentle texture, it's perfect for a nap during your break.
What is Kurume weaving?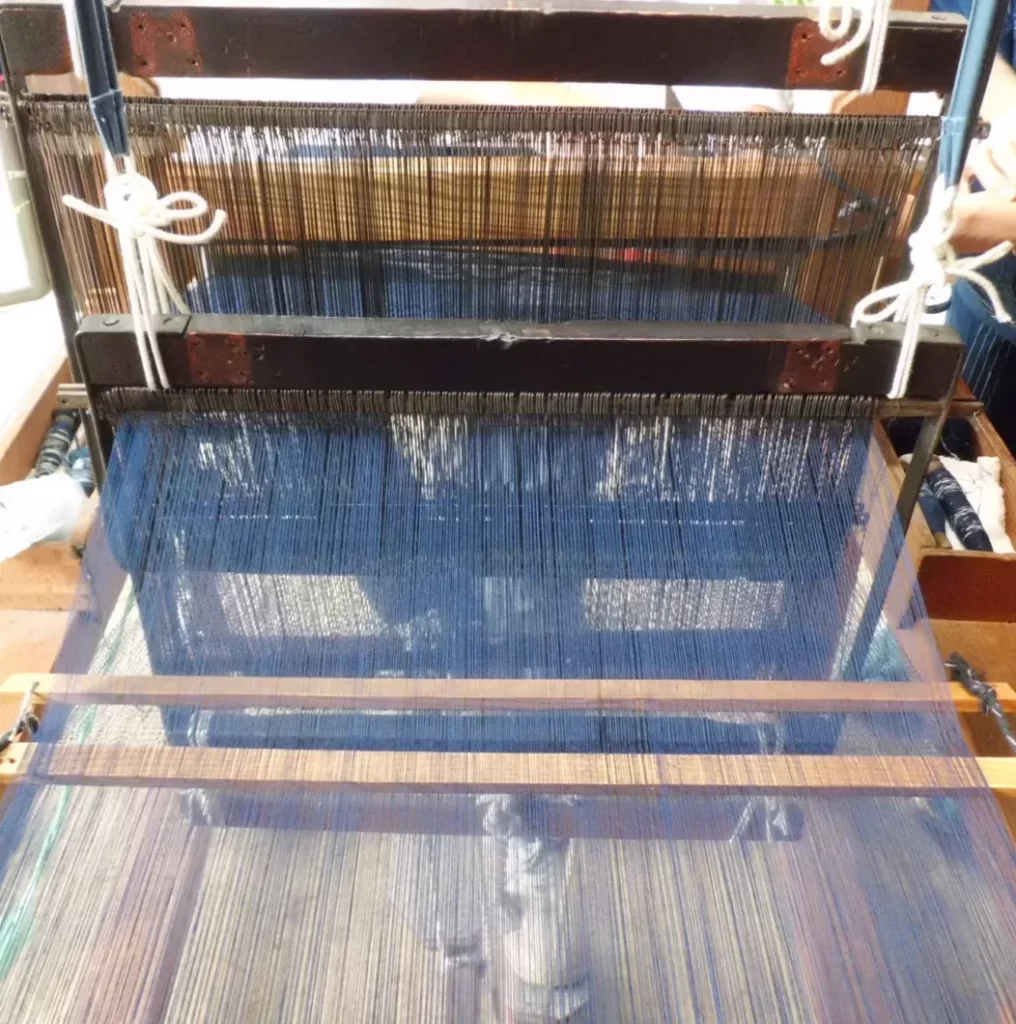 "Kurume Kasuri" is a traditional Japanese craft that requires the time and skill of craftsmen to create patterns by dyeing threads differently. "Kurume weaving" was born to be able to take it more casually
Features of Kurume weaving
Kurume Kasuri is characterized by its white pattern. To create the pattern, a bundle of threads is tied and then dyed. At this time, the tied parts remain white without being dyed, so this part emerges as a pattern.
Tatami mattress 6 fold type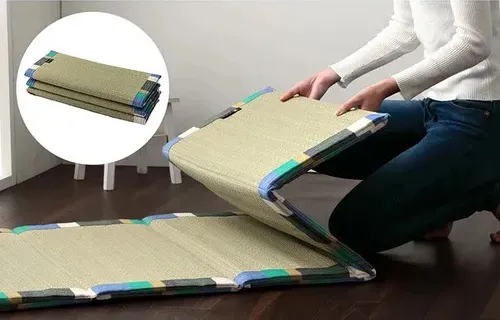 Normal rush mats are folded in two or three, but this product can be folded in six. It's compact, so it's easy to store and carry. If you spread it out quickly, you will have a sleeping space.
Discerning Tatami Rush Grass weaving method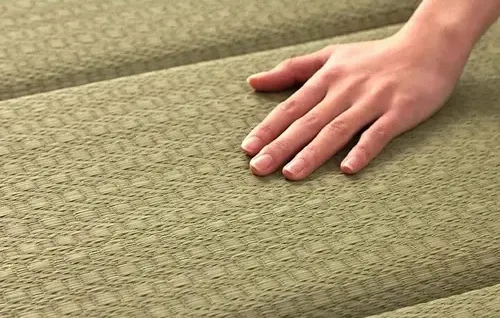 Regular weave for the outer material. The lining is woven with Meseki weave.
You can enjoy different patterns on the front and back.
*Because Tatami Rush Grass is a natural material and craftsmen process each piece by hand, there may be slight variations in shape and size from the displayed size. please note that.
Tatami mattress No washing required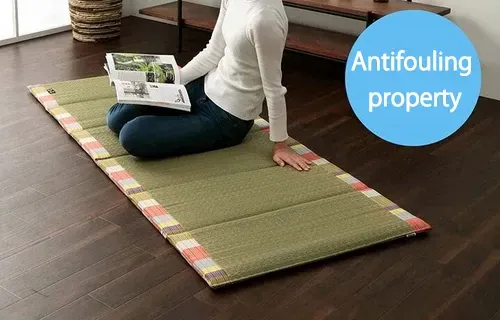 Tatami mattresses are extremely stain resistant, so you can clean them by simply removing dust with a dry rag or vacuum on a regular basis and drying in the shade.
The Tatami mattress absorbs your sweat to keep you dry and doesn't require washing.
It is a natural Tatami mattress that is kind to people and the earth.
Tatami Rush Grass from Kyushu Japan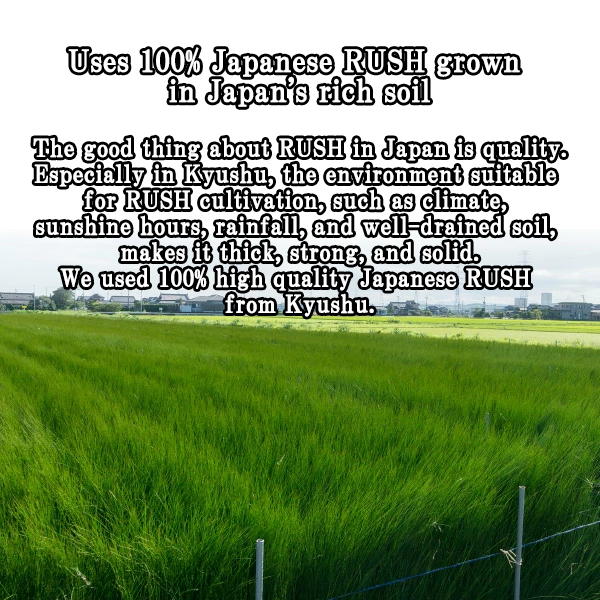 Good quality Tatami Rush Grass grows with good quality air, water and soil. Tatami Rush Grass, like any crop, grows into a dense, hardy Tatami Rush Grass if grown in rich, nutritious soil.
Tatami Rush Grass from Japan has a thick outer skin and is packed with fine fibers inside, so it has excellent durability and elasticity.
Aomori Hiba processing on Tatami
It uses the essence of Hiba wood, which has an antibacterial and deodorant effect. "Hiba Essence" extracted from Hiba trees in Aomori Prefecture is sprayed onto products using our unique technology.
The scent of cypress trees also has a forest bathing effect.
Tatami Rush Grass cleans the air and regulates humidity
1 Air cleaning power
Absorbs "nitrogen dioxide" and "formaldehyde", one of the causes of sick house syndrome.
2 Alleviation of condensation and dryness
Keeping your room at a moderate humidity is kind to your body and helps maintain your physical condition.
Tatami Rush Grass stores moisture in the myriad climates inside when the humidity is high, and stores and releases moisture when it gets dry. Tatami Rush Grass is 2.5 times more absorbent than cotton, and Tatami Rush Grass has come in handy in hot and humid Japan.
3 Tatami Rush Grass amazing deodorizing power
It also absorbs substances that cause pet odors and cigarette odors, reducing sweat odors.
Even if you sweat on Tatami Rush Grass, Tatami Rush Grass breaks down the odorous components of sweat, so you don't smell like sweat. In addition, it was found that it also adsorbs various other substances that cause bad odors.
4 Concentration effect of Tatami Rush Grass
The scent component in Tatami Rush Grass has a calming effect.
Author Profile