Shipping method
EMS / Fedex Shipping (about 3 to 10 days)
We deliver by Japan Post or FedEx
Delivery time
The delivery time will take about 3 to 10 days, depending on your area of ​​residence.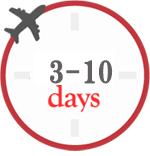 About shipping
Depending on the item ordered by the customer, each item is carefully packed after the customer's order.
Therefore, it may take about 2-8 business days to ship.
Thank you for your understanding.
on-line tracking service
Depending on the country 's situation of your shipping address, on-line tracking service may be limited and you may not be able to track your items after shipping out from Japan.
We are sorry to trouble you, but in that case, please contact the post office of your country and confirm where your package is by providing our site name and address.
For first-time customers
If you are a first-time customer, please read below prior to purchase.
Because we share inventory of products with other sales sites, in rare cases, products are sold out due to timing and order from customers.
In that case, we will notify you immediately. Notice of TokyoStore will be sent from "info@f-tokyo.jp".
If you do not receive an email from our shop
When clients set domain (blocked settings) in mobile and personal computers, in some cases, you can not receive registered mail, order confirmation mail and dispatched mail from TokyoStore.
Please reset the mail or add "info@f-tokyo.jp" admin of the shop to the reception list.
If you don't receive email, in some cases, emails from the shop are in your junk e-mail folder, so please check them.
Contact UsOffice hours 9:00 – 18:00 [ Weekdays except holidays ]
Contact us