Description
Tatami Rush rug carpet non-woven fabric type KYOSASHIKO Beige made in Japan
Size / Capacity: 191 x 191 cm / 191 x 250 cm / 191 x 300 cm
Color: Beige
Producing area: Japan (pure domestic)
Material / Ingredient: Material: Outer material = rush (from Kyushu)
* Bag woven lining = 100% polyester (nonwoven fabric) Outer frame = 100% cotton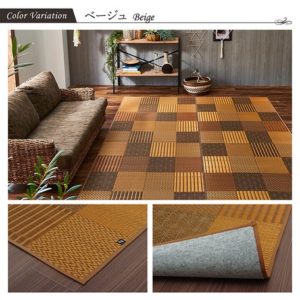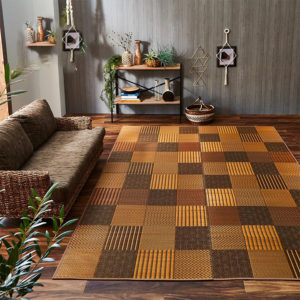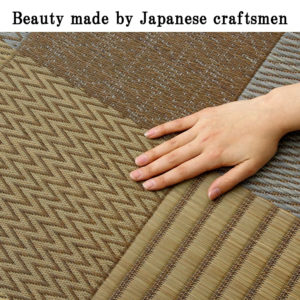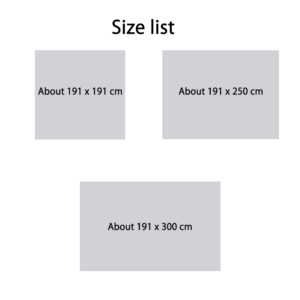 A patchwork-style rush carpet that combines various weaves.
You can enjoy multiple different skin feels depending on the weaving method.
The calm colors create a modern atmosphere.
A delicate pattern is created by a technique called bag weaving, which has a large number of warp threads.
Since the bend is complicated, it will break unless you use a long rush. And because the warp threads are dense, it is characterized by being firm and hard to tear.
I use Rush from Kyushu, Japan. Each one is thick, the skin is thick, and the fibers are fine, so it is elastic and has excellent durability.
Rush has a natural purification effect on air and a humidity control effect. In addition, it is hard to get dirty and changes to golden color and tastes as it is used.
Since the back is covered with non-woven fabric, it is also suitable for use on flooring.
Aomori Hiba processing is applied to rush.
◎ What is KYOSASHIKO?
Traditional handicraft method that has been around for a long time in Japan
Embroidering a pattern such as a geometric pattern on the fabric with thread and sewing it.
It is said that linen cloth and cotton cloth reinforced with cotton thread are used for heat retention and reinforcement.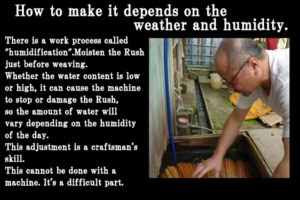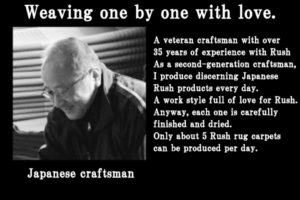 ◆ Precautions for use and care
* Wipe lightly twice with a dry cloth or rag before use.
Do not wipe with water as it may cause mold.
* If you spill water, it will not penetrate inside if you absorb the water early.
Do not rub strongly, but wipe with a tissue.
* For normal maintenance, use a vacuum cleaner!
Clean to absorb the gap.
* If you dry it in the shade regularly and keep it well ventilated, you can prevent the growth of mold.
* Since it is a natural material and processed by hand by craftsmen, the shape and display size may differ slightly.
Thank you for understanding.
* AS EACH ITEM IS HANDMADE ONE BY ONE, THERE MAY BE SLIGHT DIFFERENCES IN COLOR, SHAPE, AND SIZE.
* DEPENDING ON YOUR DEVICE AND VIEWING ENVIRONMENT, THE COLOR AND TEXTURE OF THE PHOTO MAY LOOK SLIGHTLY DIFFERENT FROM THE ACTUAL ONE.
THANK YOU FOR YOUR UNDERSTANDING.
* TOKYO STORE IS CLOSED ON SATURDAYS, SUNDAYS, AND PUBLIC HOLIDAYS.
* IN RARE CASES, THE STOCK MAY BE OUT OF STOCK BECAUSE THE STOCK IS SHARED WITH OTHER SALES SITES. IN THAT CASE, WE WILL NOTIFY YOU IMMEDIATELY.
* TOKYO STORE WILL SHIP AS SOON AS POSSIBLE, BUT IT MAY TAKE 3 TO 7 BUSINESS DAYS TO PREPARE FOR SHIPPING DEPENDING ON THE ORDERED ITEM.
THANK YOU FOR YOUR UNDERSTANDING.
* TOKYO STORE does NOT collect any local duties, taxes or fees on international orders.
For countries that apply sales taxes and/or customs duties (esp. European countries), if applicable, those charges will be payable to local authorities before delivery.