Description
Tatami ZABUTON Japanese Cushion Chidori 2 Piece Set Made in Japan
Size / Capacity: Approximately 21.7 x 21.7 in 2 piece set
Color: Orange / Green / Black
Producing area: Japan
Material / ingredient: Outer material = Tatami Rush Grass Material in: Top / bottom felt 12 mm Core part in: Urethane 25 mm (3-layer structure)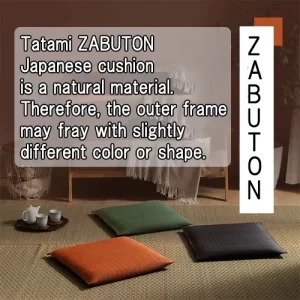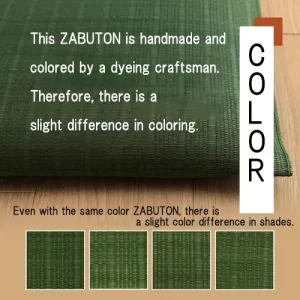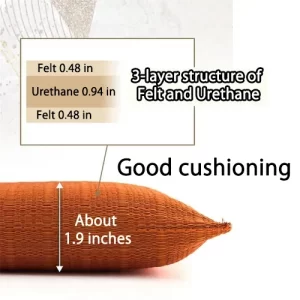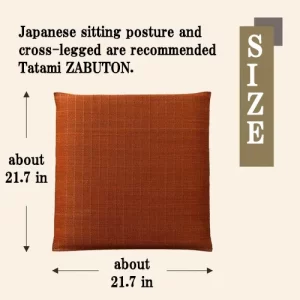 Japanese style modern and simple Tatami ZABUTON Japanese cushion.
Each product is hand-colored by a craftsman, and each product is characterized by subtle color unevenness and shades. Even products of the same color are "one-of-a-kind items" with slightly different shades of dyeing.
Uses Japanese Tatami Rush Grass. Each Tatami Rush Grass from Japan is thick, the skin is thick and the texture is fine, so it is elastic and has excellent durability.
A technique called crest weaving is used to weave rush in the same way as ordinary floor covering to create a solid fabric.
The material inside is a three-layer structure of felt and urethane, and has a good cushioning property. It is a refreshing type Tatami cushion with the outer frame part finished by Chidori processing.
Natural functions of Tatami Rush Grass include air purification, humidity control, deodorization, and antibacterial deodorization.
The "Tatami Rush Grass" cushion is perfect for Japanese homes with high humidity all year round. Made from natural Tatami Rush Grass, it is breathable and comfortable to sit on for long periods of time. Tatami Rush Grass has the property of being resistant to stains, so you can clean it by simply wiping it with a dry rag and drying it in the shade.
◆ Precautions for use and care
● Depending on availability, it may take 6-8 business days to ship.
* Holidays: Saturdays, Sundays and public holidays
● Since the ZABUTON rush cushion is a natural material, it may have variations in color and shape, frayed outer frame, broken RUSH, and torn depending on the frequency of use.
● Wipe lightly twice with a dry cloth or rag before use.
* Do not wipe with water as it may cause mold.
● If you spill water, it will not penetrate inside if you absorb the water early.
* Do not rub strongly, but wipe with a tissue.
● For normal maintenance, use a vacuum cleaner!
Clean to absorb the gap.
● If you dry it in the shade regularly and keep it well ventilated, you can prevent the growth of mold.
● Since it is a natural material and processed by hand by craftsmen, the shape and display size may differ slightly.