Description
Rush tatami fabric sheets using domestic (Kyushu) rush grass.
Please lay it on a futon and use it as a sheet.
Finished with 33 stitches that are soft to the touch.
Each domestic Rush tatami fabric is thick, the skin is thick, and the fibers are fine, so it is elastic and has excellent durability.
Size: about 70 x 120 cm
Color: pink
Producing area: Made in Japan (pure domestic)
Material / Ingredient: Material: Rush tatami fabric (from Kyushu)
* 33 Weaving helicopter = 100% cotton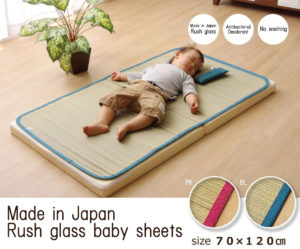 1. It has about 3 times the hygroscopicity of cotton and reduces sweat dampness.
2. It has a humidity control effect and promotes a comfortable sleep without getting stuffy. 3. It suppresses the chemical substances that cause the odor of sweat by 90% or more and reduces the odor.
Aomori Hiba processing is applied to the Rush tatami fabric.
(Antibacterial and deodorant effect) "Hiba oil" extracted from Hiba tree in Aomori prefecture was sent to the site and processed into materials and products using the manufacturer's original technology.
"Hiba oil" contains a natural substance called hinokitiol, which has extremely high antibacterial properties, and its use research is underway in various fields such as medicine and food.
* Because it is a natural material and each craftsman processes it by hand, the shape may vary and the display size may differ slightly.
Thank you for understanding.