Description
Tatami material rug carpet checkered design made in Japan
Size / Capacity: 68.5 x 68.5 in | 68.5 x 102.8 in | 102.8 x 102.8 in | 102.8 x 138.6 in |
* Since it is a natural material and processed by hand by craftsmen, the shape and display size may differ slightly.
Color: Black / Brown
Producing area: Japan
Material: Outer material = Tatami Material Rush Grass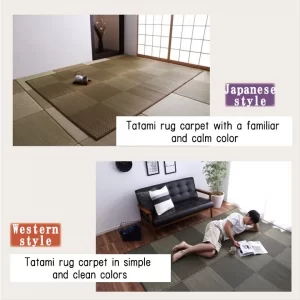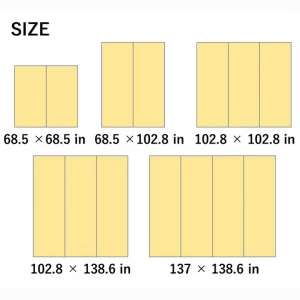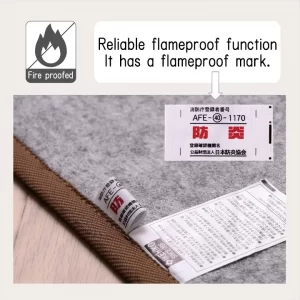 The Tatami material rug carpet checkered design makes it easy to lay in Western-style and Japanese-style rooms.
Made in Japan and rarely made in Japan, Tatami material RushGrass is used, and veteran craftsmen make use of many years of experience to carefully weave it.
There is a wide range of sizes available, and you can choose the product that best fits your room size.
This Tatami rug carpet is flameproof so it won't spread when exposed to fire. Tatami material Rush Grass uses only from Kyushu. Rush Grass is a safe Tatami material grown in the Japanese climate. Each one is thick, the skin is thick, and the fibers are fine, so it is elastic and has excellent durability.
Tatami material Rush Grass has a natural purification effect on air and a humidity control effect. Tatami material Rush Grass is processed with natural oil extracted from Hiba in Aomori.
Hiba oil has an antibacterial and deodorant effect. It was
◆ Precautions for use and care
● Depending on availability, it may take 5-7 business days to ship.
* Holidays: Saturdays, Sundays and public holidays
● Wipe lightly twice with a dry cloth or rag before use.
* Do not wipe with water as it may cause mold.
● If you spill water, it will not penetrate inside if you absorb the water early.
* Do not rub strongly, but wipe with a tissue.
● For normal maintenance, use a vacuum cleaner!
Clean to absorb the gap.
● If you dry it in the shade regularly and keep it well ventilated, you can prevent the growth of mold.
● Since it is a natural material and processed by hand by craftsmen, the shape and display size may differ slightly.