Description
Prayer beads bracelet matte striped ebony flat ball brown crystal 54 beads made in Kyoto
Material of prayer beads
・Omodama…Striped ebony (matte) flat bead (10mm x 3mm)
・Oyadama…brown crystal (12mm)
・Tenju…brown crystal (7mm)
Inner thread material: Operon rubber (silicon rubber)
Size: inner circumference about 17.5cm
Remarks: With portable pouch bag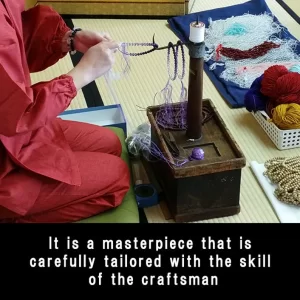 [Power of stone]
◆Brown crystal◆
Brown crystal, also called smoky quartz, has long been valued as a stone that wards off evil spirits.
It is said to have the power to increase strength and endurance.
This bracelet is made of precious striped ebony with a beautiful wood grain, and accented with beautiful brown crystals that are clear and brown.
It is made with 54 beads, which is half of the 108 regular prayer beads, which is called "half-knit".
The stylish shape of striped ebony processed into a flat ball can produce a fashionable impression.
Elastic and durable operon rubber (silicon rubber) is used for the middle thread.
It is a masterpiece made by a master craftsman of Kyoto's prayer beads.
* TokyoStore is closed on saturdays, sundays, and public holidays.
* In rare cases, the stock may be out of stock because the stock is shared with other sales sites.
* TokyoStore will ship as soon as possible, but it may take 3 to 7 business days to prepare for shipping depending on the ordered item.
Thank you for your understanding.
* TokyoStore does not collect any local duties, taxes or fees on international orders.
for countries that apply sales taxes and / or customs duties (esp. european countries), if applicable, those charges will be payable to local authorities before delivery.