Description
Jodo sect Prayer beads bracelet black onyx made in Kyoto
Material of prayer beads
・Omodama…Crystal/black onyx flat ball (7mm×3mm)
・Oyadama…Crystal round ball (10mm)
・Tenju…Crystal round ball (7mm)
Inner thread material: Operon rubber (silicon rubber)
Size: Inner circumference about 16.5cm to about 18cm
*Size cannot be changed
Remarks: With portable pouch bag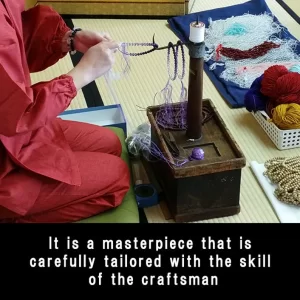 [Power of stone]
◆Crystal◆
Crystals, also known as crystals, are colorless, transparent and mysterious stones that have long been said to ward off evil.
It is also the national stone (symbolic stone) of Japan and counted as one of the seven treasures in Buddhism.
Crystals are said to have the power to exorcise, purify everything, and invite good luck.
◆Onyx◆
Onyx is said to have the power to shake off evil thoughts and bad feelings and give reason.
It is also said to have the power to give you patience and strength of will to move forward.
It is also called a "symbol of success", and is said to be a stone that supports you to accomplish without giving up.
This rosary bracelet is made of 108 main beads with the same specifications as the regular prayer beads, using crystal that produces a beautiful transparent shine and black onyx that shines in jet-black luster.
We have made it in the Hanshoku Nenju style, which is one of the official prayer beads for temples (monks).
Since it is a full-fledged prayer beads bracelet that you can always feel close to the same merit as a formal prayer beads, it has a great talisman effect.
The combination of crystal that gives you a dignified feel of prayer beads processed into flat beads and jet black balls of black onyx creates a stylish atmosphere.
Elastic and durable operon rubber (silicon rubber) is used for the thread inside.
It is a masterpiece made by a master craftsman of Kyoto's prayer beads.
* TokyoStore is closed on saturdays, sundays, and public holidays.
* In rare cases, the stock may be out of stock because the stock is shared with other sales sites.
* TokyoStore will ship as soon as possible, but it may take 3 to 7 business days to prepare for shipping depending on the ordered item.
Thank you for your understanding.
* TokyoStore does not collect any local duties, taxes or fees on international orders.
for countries that apply sales taxes and / or customs duties (esp. european countries), if applicable, those charges will be payable to local authorities before delivery.