Description
Prayer Beads Bracelet Heart Sutra Engraving Indian Sandalwood Made in Kyoto
[Material of beads]
Omodama…Heart Sutra Carved Indian Sandalwood (8mm)
Oyadama…Heart Sutra Carved Indian Sandalwood (11mm)
Tenju…Indian sandalwood (7mm)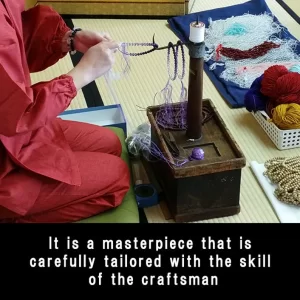 [Rare fragrant wood]
◆Indian Sandalwood◆
Sandalwood is cultivated in various regions, but Indian sandalwood from the Mysore region of India is of the highest quality.
Indian sandalwood is also known as "Roshan Sandalwood".
In recent years, Indian sandalwood has been subject to export restrictions, making it a rare fragrant wood.
Among sandalwood, Indian sandalwood is the best product, and all 276 characters of "Heart Sutra" are carved into this bracelet.
Indian sandalwood is used as a raw material for high-quality incense, so the scent is exceptional, and you can enjoy an elegant scent that heals your heart.
The Heart Sutra is a collection of Buddhist teachings, and it is said that by reading it, one can gain the same merit as reading all 600 volumes of the Daihannya Sutra, and that all suffering will be removed.
This rosary bracelet is made of high-quality Indian sandalwood and is carefully carved with the heart sutra.
Elastic and durable operon rubber (silicon rubber) is used for the middle thread.
It is a masterpiece made by a master craftsman of Kyoto's prayer beads.
●What is Hannya shinkyo (Heart Sutra)?
The Heart Sutra is a scripture that preaches the thoughts of Mahayana Buddhism's "emptiness" and "Hannya" among Buddhism. "Ku" refers to the idea that all existence is caused by fate and is insubstantial, and Hannya refers to the so-called "enlightenment".
* TokyoStore is closed on saturdays, sundays, and public holidays.
* In rare cases, the stock may be out of stock because the stock is shared with other sales sites.
* TokyoStore will ship as soon as possible, but it may take 3 to 7 business days to prepare for shipping depending on the ordered item.
Thank you for your understanding.
* TokyoStore does not collect any local duties, taxes or fees on international orders.
for countries that apply sales taxes and / or customs duties (esp. european countries), if applicable, those charges will be payable to local authorities before delivery.