Description
Prayer beads bracelet matte striped ebony tiger eye stone made in Kyoto
Material of prayer beads
・Omodama ball…Striped ebony (matte) (6mm×3mm)
・Oyadama…Tiger eye stone (10mm)
・Tenju… tiger's eye stone (4mm) 
Inner thread material: Operon rubber (silicon rubber)
Size: Inner circumference about 16.5cm to about 18cm
*Size cannot be changed
Remarks: With portable pouch bag
Main pearl…Striped ebony (matte) (6mm×3mm)
Parent ball…Tiger eye stone (10mm)
Tenju…Tiger eye stone (4mm)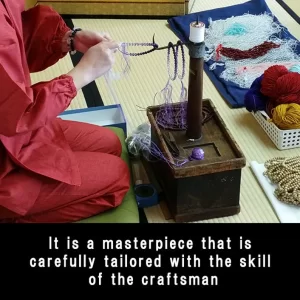 [Power of stone]
◆Tiger eye stone◆
Tiger's eye stone is also known as tiger's eye, and is said to be a stone that repels evil and invites good luck since ancient times.
It is said to have the power to nurture insight and decisiveness, lead things to success, and improve financial and work luck.
This is a banglet Prayer beads bracelet made of 108 main beads with the same specifications as the authentic Prayer beads for Shingon Buddhism, using precious striped ebony with beautiful wood grain and tiger's eye stone with unique stone grain.
Since it is a full-fledged Prayer beads bracelet that you can always feel close to the same merit as the formal Prayer beads of Shingon Buddhism, it has a great talisman effect.
Ebony, which is excellent in combination with tiger's eye stone, retains its original texture by removing its luster.
Elastic and durable operon rubber (silicon rubber) is used for the middle thread.
The tufts, which have the same shape as the regular Prayer beads, are finished by finely assembling colored rubber.
It is a masterpiece made by a master craftsman of Kyoto's prayer beads.
* TokyoStore is closed on saturdays, sundays, and public holidays.
* In rare cases, the stock may be out of stock because the stock is shared with other sales sites.
* TokyoStore will ship as soon as possible, but it may take 3 to 7 business days to prepare for shipping depending on the ordered item.
Thank you for your understanding.
* TokyoStore does not collect any local duties, taxes or fees on international orders.
for countries that apply sales taxes and / or customs duties (esp. european countries), if applicable, those charges will be payable to local authorities before delivery.