Description
Traditional Japanese paper lantern chrysanthemum flower white LED cordless light made in Japan
Material: Lace Japanese paper chrysanthemum flower / white
Because it is PET processed Japanese paper, it is hard to tear, durable and long-lasting.
Size: Approx. W5.9 x H9.3 in
* Since Japanese lanterns are handmade, the shape and display size may differ slightly.
Light bulb: LED built-in (ON / OFF switch)
Cordless type
Dry batteries (AA x 2) (continuous lighting time approx. 50 hours)
Wooden (brown) pedestal
* Batteries are not included.
* Japanese paper lanterns are made after ordering.
Therefore, it takes about 7 business days to ship.
After ordering, we will inform you of the shipping date.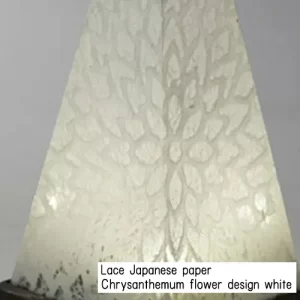 Japanese lantern Andon
Made in the birthplace of Japanese traditional craft Gifu chochin (Japanese lantern).
Using traditional techniques, skilled craftsmen carefully handcraft each piece of Japanese paper interior that has both beauty and function.
* Japanese-made lanterns made of Japanese paper are called Andon / Chochin.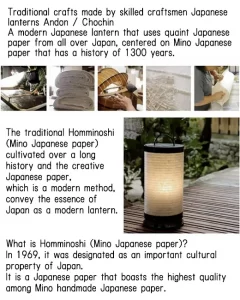 Traditional crafts made by skilled craftsmen Japanese lanterns Andon / Chochin
A modern Japanese lantern that uses quaint Japanese paper from all over Japan, centered on Mino Japanese paper that has a history of 1300 years.
The traditional Homminoshi (Mino Japanese paper) cultivated over a long history and the creative Japanese paper, which is a modern method, convey the essence of Japan as a modern lantern.
What is Homminoshi (Mino Japanese paper)?
In 1969, it was designated as an important cultural property of Japan.
It is a Japanese paper that boasts the highest quality among Mino handmade Japanese paper.
Japanese lanterns are cute.
Please enjoy the beauty of the transparent light from the lace Japanese paper.
LED lighting with low power consumption and long life.
It is a cordless type and can be moved freely. Also, enjoy it as Japanese-style LED lighting, indirect lighting in your room, and interior lighting in corridors and entrances.
By combining it with the Japanese paper shade, it became a gentle light.