Description
Tatami Rush rug carpet Moonlight back side non-slip type made in Japan
Material Surface: 100% domestic rush crest
Size: 75.2 × 75.2 in | 75.2 × 98.4 in
Thickness: about 4mm
Edge: 100% cotton square edge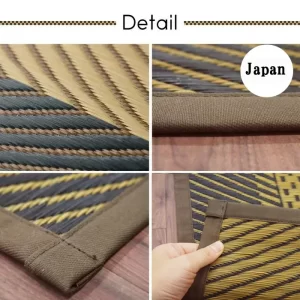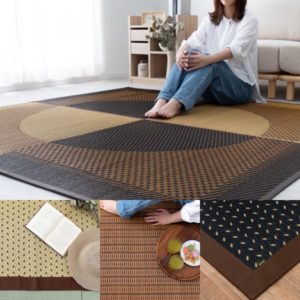 Uses 100% high-quality domestic rush!
Domestic rush rug using only high quality domestic rush.
We are particular about the ""dyeing"" of rush and dyed it in vivid colors by craftsmen.
There is no doubt that it will be a nice room.
It is a rush rug that is a lifelong product.
[Characteristics of rush]
-An excellent item that regulates the humidity in the room.
-Has the effect of heat retention and heat insulation.
-Reliable material with elasticity and sound deadening.
-Has air purification and aromatherapy effects.
[Handling]
-Although it has been color-stopped, it may fade due to its natural material.
-Since it is a natural material, there will be some size error.
・ Because it is a natural material, please do not use carpet shampoo or detergent.
-Although it is anti-mold processed, it is a natural material, so mold may occur depending on the conditions of use.
・ Avoid using in a humid place.
-Antibacterial and deodorant effects are the characteristics of rush fibers.
Rush fiber has the property of suppressing the reproductive activity and growth of ""bacteria"". Suppressing the growth of bacteria has the effect of preventing the generation of offensive odors that cause the ""unpleasant odor"" that occurs when sweating.
Depending on availability, it may take 5-7 business days to ship.
* Holidays: Saturdays, Sundays and public holidays
◆ Precautions for use and care
● Wipe lightly twice with a dry cloth or rag before use.
* Do not wipe with water as it may cause mold.
● If you spill water, it will not penetrate inside if you absorb the water early.
* Do not rub strongly, but wipe with a tissue.
● For normal maintenance, use a vacuum cleaner!
Clean to absorb the gap.
● If you dry it in the shade regularly and keep it well ventilated, you can prevent the growth of mold.
● Since it is a natural material and processed by hand by craftsmen, the shape and display size may differ slightly.