Description
Tatami RUSH rug carpet KAKITAGAWA made in Japan
Size:
34.6 in (88 cm) x 69.3 in (176 cm)
69.3 in (176cm) x 69.3 in (176cm)
69.3 in (176 cm) x 102.8 in (261 cm)
102.8 in (261 cm) x 102.8 in (261 cm)
102.8 in (261 cm) x 138.6 in (352 cm)
Producing area: Japan
Material / Ingredient: Material: RUSH (from Kyushu)
* Outer frame = polypropylene, polyethylene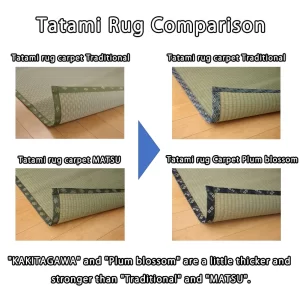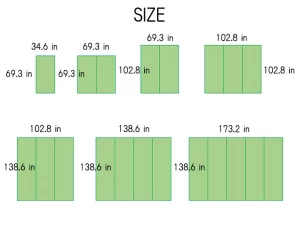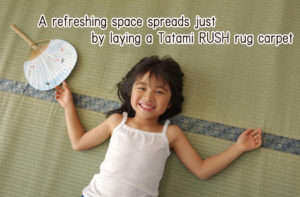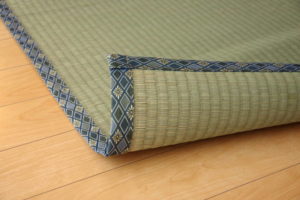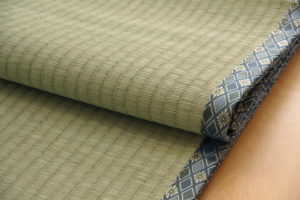 You can refresh yourself just by laying a Tatami RUSH rug carpet.
We use RUSH made in Japan (Kyushu) with a length of about 120 cm. About 91 cm is used.
The outer frame is slightly whitish. (It's not a sunburn, it's the color of the root and tip of RUSH.)
The longer the RUSH, the higher the quality. RUSH has a reddish brown tip, a white root, and a blue (green) color in the middle. The more good quality blue part in the middle is used, the stronger and more beautiful the finish will be.
In addition, RUSH gets a tan while using it, but the more the blue part in the middle is used, the better the whole tans and the more it deteriorates over time.
This Tatami RUSH rug carpet is durable due to the large number of RUSH driven. Since the surface is smooth, it is characterized by the fact that dust does not collect easily.
Each Japanese rush is thick, the skin is thick, and the fibers are fine, so it is elastic and has excellent durability.
RUSH has the characteristics of purifying air, controlling humidity, and being hard to get dirty. Aomori Hiba processing is applied to RUSH. (Antibacterial and deodorant effect) Both front and back can be used.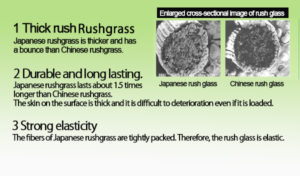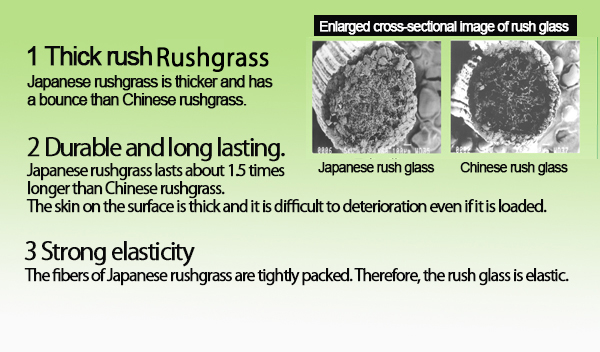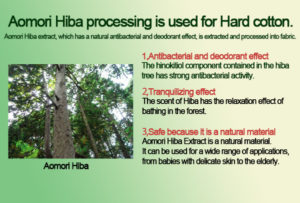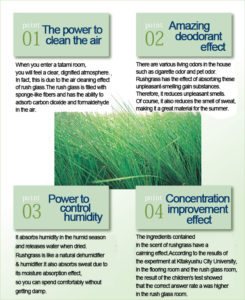 ◆ Note
● Depending on availability, it may take 5-7 business days to ship.
* Holidays: Saturdays, Sundays and public holidays
● Custom Duties: Customers are responsible for custom duties (tariffs) which might be charged in your country.
● Wipe lightly twice with a dry cloth or rag before use.
* Do not wipe with water as it may cause mold.
● If you spill water, it will not penetrate inside if you absorb the water early.
* Do not rub strongly, but wipe with a tissue.
● For normal maintenance, use a vacuum cleaner!
Clean to absorb the gap.
● If you dry it in the shade regularly and keep it well ventilated, you can prevent the growth of mold.
● Since it is a natural material and processed by hand by craftsmen, the shape and display size may differ slightly.