Description
Tatami Rush Rug Carpet DX Kumiko Brown Color Made in Japan
Producing area: Made in Japan (pure domestic)
Material / Ingredients: Material: Outer material = rush (from Kyushu, Japan)
Lining = 100% polyester [Non-woven fabric]
Outer frame = 100% cotton
Color: brown
●Size
37.4×59.1 in(95×150cm)
75.2×75.2 in(191×191cm)
75.2×98.4 in(191×250cm)
102.8×102.8 in(261×261cm)
102.8×138.6 in(261×352cm)
Color: brown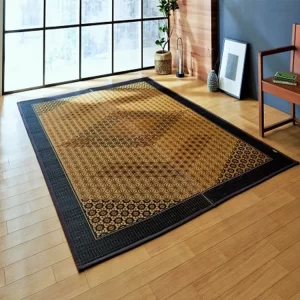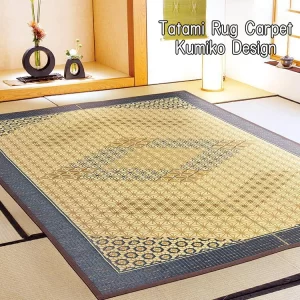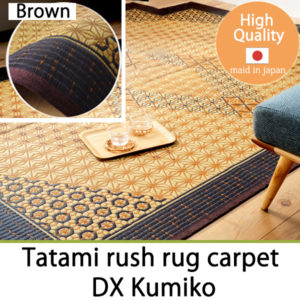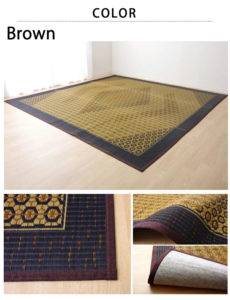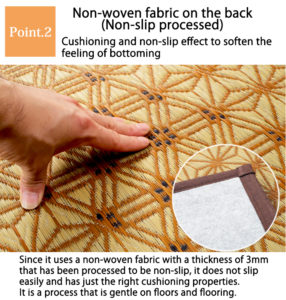 A rug carpet that expresses Kumiko design, a traditional Japanese craft, in Rush.
Rush has a natural purification effect on air and a humidity control effect.
It can also be used as a hot carpet cover.
Aomori Hiba processing is applied to Rush. (Antibacterial and deodorant effect)
The back side is made of non-slip non-woven fabric, making it ideal for flooring.
◆ Effect of RUSH
1. Rush purifies the air.
Rush has the ability to adsorb and decompose formaldehyde such as "nitrogen dioxide" and "sulfur dioxide" that cause asthma.
It also adsorbs nitrogen dioxide generated from stoves, so it is a nice material not only in summer but also in winter.
2, Rush controls humidity.
One of the worries about the housing in the place where you live is "condensation". In fact, Rush has a function like a natural dehumidifier / humidifier that adsorbs humidity and releases it when it dries, so it prevents the degree of condensation.
The silky feel is also attractive.
3. Combines the Deodorant effect.
Rush also adsorbs chemical substances that cause odors, so it reduces daily odors such as sweat, tobacco odors, and pet odors.
By laying Rush, the room will be surrounded by clean air.
4, hard to get dirty and easy to clean
Rush is a material that is harder for dirt to penetrate than cotton materials, so maintenance is easy.
Even if it gets dirty, you can wipe it off quickly.
Rush material is an earth-friendly material.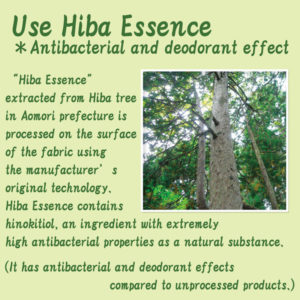 ◆ Precautions for use and care
● Depending on availability, it may take 5-7 business days to ship.
* Holidays: Saturdays, Sundays and public holidays
● Wipe lightly twice with a dry cloth or rag before use.
* Do not wipe with water as it may cause mold.
● If you spill water, it will not penetrate inside if you absorb the water early.
* Do not rub strongly, but wipe with a tissue.
● For normal maintenance, use a vacuum cleaner!
Clean to absorb the gap.
● If you dry it in the shade regularly and keep it well ventilated, you can prevent the growth of mold.
● Since it is a natural material and processed by hand by craftsmen, the shape and display size may differ slightly.