Description
Tatami Rush nap mattress and Tatami flat pillow set made in japan
●Tatami mattress
Size: about 35 x 78.7 in (90 x 200 cm)
Thickness: about 1.6in (4cm)
Color: brown, green, navy, black
Material: outer material = Japan made rush (double-sided), medium material = 100% cotton (40mm)
Country of origin: Made in Japan
●Tatami pillow
Size:about 19.7in×11.8in (50×30cm)
Thickness: about 3.1in (8cm)
Color: natural, green, blue
Material: Outer material = Tatami Rush, lining = Tatami Rush
Inner material = memory foam chip Outer frame = 100% cotton
●About Tatami nap mattress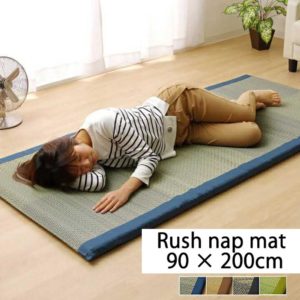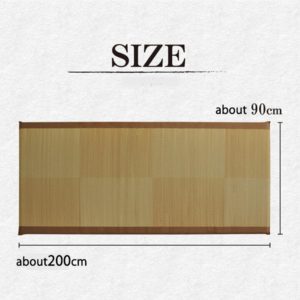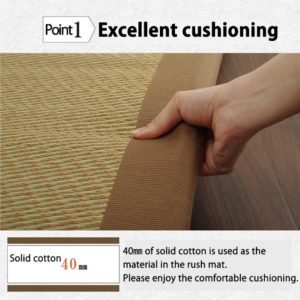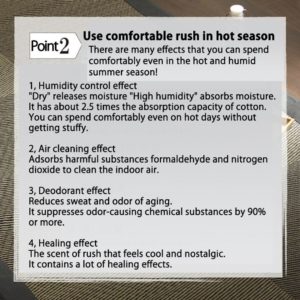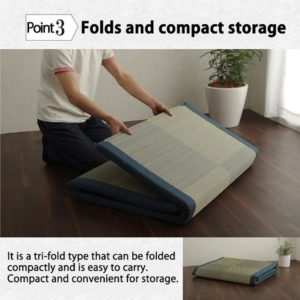 A simple checkered pattern nap mat made from Japanese Tatami Rush.
It is also ideal for taking a nap during a short break at work.
Tatami Rush Grass effect
①It has about 2.5 times the hygroscopicity of cotton and reduces sweat dampness.
②It has a humidity control effect and promotes a comfortable sleep without getting stuffy.
③Reduces odor by suppressing 90% or more of chemical substances that cause sweat odor.The material inside the mat is made of 40mm solid cotton, which is particular about cushioning, so it has moderate elasticity and can be used comfortably even on flooring.
Hiba essence processing is applied to the surface of Rush (antibacterial and deodorant effect).
"Hiba oil" extracted from the Hiba tree in Aomori prefecture is processed into materials and products using the manufacturer's original technology.
"Hiba oil" contains hinokitiol, a component with extremely high antibacterial properties as a natural substance, and its use research is underway in various fields such as medical treatment and food.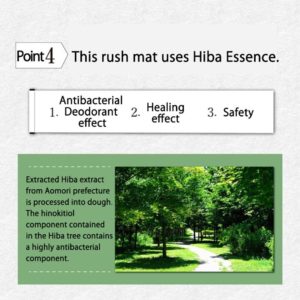 ●About Tatami pillow
The Tatami pillow has a shape that easily fits your head.
And the pillow has a depression in the center.
The pillow's filling is made of low-resilience urethane, which is not too soft, doesn't collapse, and doesn't lose its shape.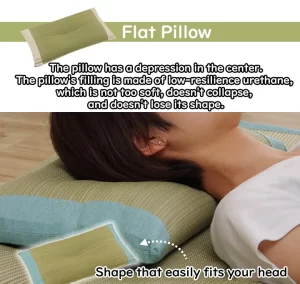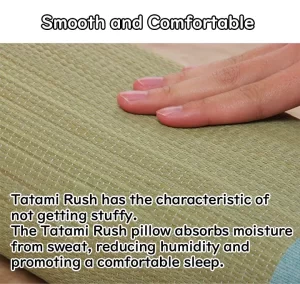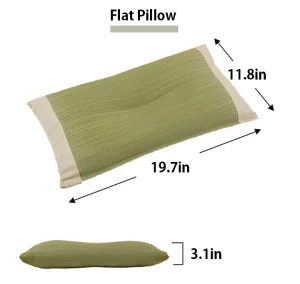 ◆Precautions for use and care
・Wipe lightly twice with a dry cloth or rag before use.
Do not wipe with water as it may cause mold.
・If you spill water, it will not penetrate inside if you absorb the water early.
Do not rub strongly, but wipe with a tissue.
・For daily care, use a vacuum cleaner!
Vacuum along the grain.
・If you dry it in the shade regularly and keep it well ventilated, you can prevent the growth of mold.
・Since it is a natural material and handmade by craftsmen, the shape and display size may differ slightly.
Thank you for understanding.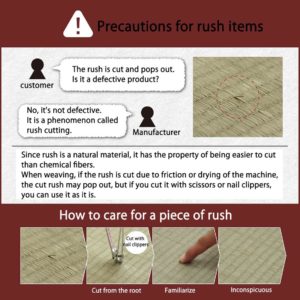 ‐‐‐Please check the following‐‐‐
* About shipping date
・Depending on availability, it may take 5-7 business days to ship.
* Holidays: Saturdays, Sundays and public holidays
・This item are shipped by Japan Post Express shipping.
* Shipping time of Japan Post Express Delivery
Asia: about 1 week
U.S.: about 1 to 2 weeks
Other area: about 1 to 3 weeks
Thank you for your understanding.
* TokyoStore is closed on saturdays, sundays, and public holidays.
* In rare cases, the stock may be out of stock because the stock is shared with other sales sites.
* TokyoStore does not collect any local duties, taxes or fees on international orders.
for countries that apply sales taxes and / or customs duties (esp. european countries), if applicable, those charges will be payable to local authorities before delivery.