Description
Japanese (Kyushu) rush is used for the outer material.
Each one is thick, the skin is thick, and the fibers are fine, so it is elastic and has excellent durability.
This item is a Tatami mattress only.
* Shiki Futon mattress is not included.
Click here for Japanese style mattress
Tatami Folding RUSH mattress single 100×210cm Made in Japan
A unit tatami mat that can be used as a mattress.
Single about 100 x 210 cm
Semi-double approx. 120 x 210 cm
Producing area: Japan
Material / ingredient: Outer material = rush lining = 100% polyester (nonwoven fabric) 8mm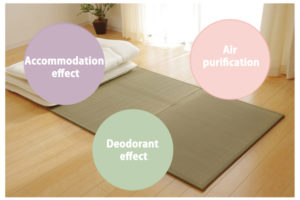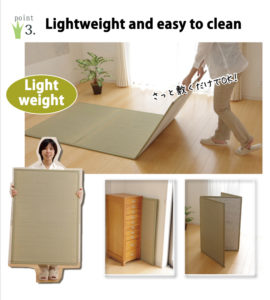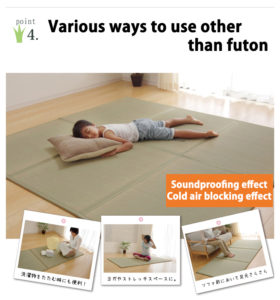 It has the features of natural purification of air, humidity control and stain resistance, so it regulates the humidity under the futon and has antibacterial and deodorant effects.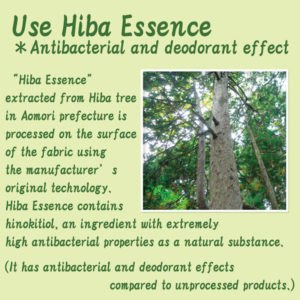 ""Hiba Essence"" extracted from Hiba tree in Aomori prefecture is processed on the surface of the fabric using the manufacturer's original technology.
Hiba Essence contains a highly antibacterial ingredient called hinokitiol, which is a natural substance.
If your room is flooring, futon group, sleeping group, yoga group, etc… please try it once !!
◆ Precautions for use and care
● Wipe lightly twice with a dry cloth or rag before use.
Do not wipe with water as it may cause mold.
● If you spill water, it will not penetrate inside if you absorb the water early.
Do not rub strongly, but wipe with a tissue.
● For normal maintenance, use a vacuum cleaner!
Clean to absorb the gap.
● If you dry it in the shade regularly and keep it well ventilated, you can prevent the growth of mold.
● Since it is a natural material and processed by hand by craftsmen, the shape and display size may differ slightly.
Thank you for understanding.
●Depending on availability, it may take 5-7 business days to ship.
*Holidays: Saturdays, Sundays and public holidays