Description
Tatami rug mat traditional design Tatami Zabuton Japanese cushion 2 pieces set
●Tatami mat traditional design made in Japan
Size:
34.6 in (88 cm) x 69.3 in (176 cm)
69.3 in (176cm) x 69.3 in (176cm)
69.3 in (176 cm) x 102.8 in (261 cm)
102.8 in (261 cm) x 102.8 in (261 cm)
102.8 in (261 cm) x 138.6 in (352 cm)
Producing area: Japan
Material / Ingredient: Material: RUSH (from Kyushu)
* Outer frame = polypropylene, polyethylene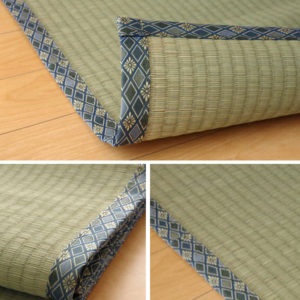 You can refresh yourself just by laying a Tatami RUSH rug carpet.
We use RUSH made in Japan (Kyushu) with a length of about 120 cm. About 91 cm is used.
The outer frame is slightly whitish. (It's not a sunburn, it's the color of the root and tip of RUSH.)
The longer the RUSH, the higher the quality. RUSH has a reddish brown tip, a white root, and a blue (green) color in the middle. The more good quality blue part in the middle is used, the stronger and more beautiful the finish will be.
In addition, RUSH gets a tan while using it, but the more the blue part in the middle is used, the better the whole tans and the more it deteriorates over time.
This Tatami RUSH rug carpet is durable due to the large number of RUSH driven. Since the surface is smooth, it is characterized by the fact that dust does not collect easily.
Each Japanese rush is thick, the skin is thick, and the fibers are fine, so it is elastic and has excellent durability.
RUSH has the characteristics of purifying air, controlling humidity, and being hard to get dirty.
●Tatami ZABUTON Japanese Cushion 2 Piece Set Made in Japan
Size / Capacity: Approximately 21.7 x 21.7 in 2 piece set
Color: Black, Green
*Tatami cushion cushion 2piece set in the same color.
Producing area: Japan
Material / ingredient: Outer material = Tatami Rush Grass Material in: Top / bottom felt 12 mm Core part in: Urethane 25 mm (3-layer structure)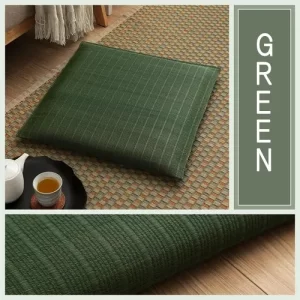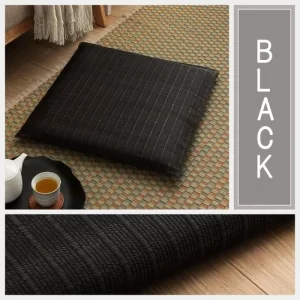 Japanese style modern and simple Tatami ZABUTON Japanese cushion.
Each product is hand-colored by a craftsman, and each product is characterized by subtle color unevenness and shades. Even products of the same color are "one-of-a-kind items" with slightly different shades of dyeing.
Uses Japanese Tatami Rush Grass. Each Tatami Rush Grass from Japan is thick, the skin is thick and the texture is fine, so it is elastic and has excellent durability.
A technique called crest weaving is used to weave rush in the same way as ordinary floor covering to create a solid fabric.
The material inside is a three-layer structure of felt and urethane, and has a good cushioning property. It is a refreshing type Tatami cushion with the outer frame part finished by Chidori processing.
Natural functions of Tatami Rush Grass include air purification, humidity control, deodorization, and antibacterial deodorization.
The "Tatami Rush Grass" cushion is perfect for Japanese homes with high humidity all year round. Made from natural Tatami Rush Grass, it is breathable and comfortable to sit on for long periods of time. Tatami Rush Grass has the property of being resistant to stains, so you can clean it by simply wiping it with a dry rag and drying it in the shade.