Description
・Tatami rug carpet Okinawa Khaki color made in Japan
Color: Navy
Size: 50.4 x 78.7in / 75.2 x 75.2in / 75.2 x 98.4in
* This Tatami rug carpet is about 2 to 3 times thicker and about twice as heavy as a normal Tatami Rush.
* Each item is processed one by one, so there may be slight differences in color, shape and size.
Producing area: Made in Japan
Materials / ingredients
Outer material = Tatami Rush from Okinawa
Lining = 100% polyester [Non-woven fabric] * Non-slip processing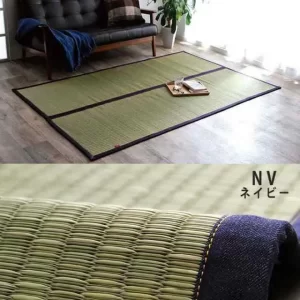 It is a rug carpet of Tatami Rush grown in Okinawa.
Okinawa Tatami Rush is the original species of normal Tatami Rush, but it is a Tatami Rush that has grown thick and strong as a result of adapting to the harsh environment of Okinawa over many years.
This Tatami Rush is a very valuable Okinawan Tatami Rush rug carpet that can only be produced in Okinawa and the planted area is very small, so it is difficult to obtain it.
It is about 2 to 3 times thicker and about twice as heavy as a normal Tatami Rush, making it durable and long-lasting. Therefore, the effect of absorbing and releasing moisture, which is a unique function of Tatami Rush, is about doubled, and it absorbs the dampness that was mushy in the summer. A Tatami Rush rug carpet with a GOOD rough tread.
When used for a long time, the surface gradually turns into a beautiful candy color, giving it a glossy appearance as if it were waxed.
3mm non-woven fabric is used for the lining so that the flooring is not easily damaged.
A gem with high rare value that shines with Japanese craftsmanship, "I want to use a high quality Tatami Rush rug carpet for a long time", "I want to use a Tatami Rush rug carpet different from the usual one" It is a perfect gem for you.
・Tatami ZABUTON Japanese Cushion Chidori 2 Piece Set Made in Japan
Size / Capacity: Approximately 21.7 x 21.7 in 2 piece set
Color: Black / Green / Orenge
* Please choose your favorite color.
Delivered as a set of 2 Tatami cushions of the same color
Producing area: Japan
Material / ingredient: Outer material = Tatami Rush Grass Material in: Top / bottom felt 12 mm Core part in: Urethane 25 mm (3-layer structure)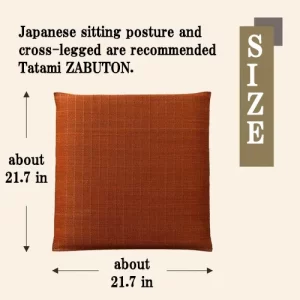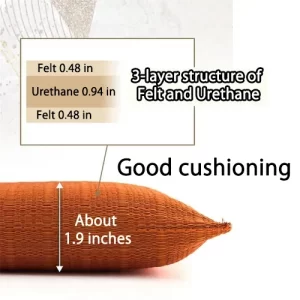 Simply place the unit tatami mat on the floor to create a tatami space.
Tatami Rush from Japan (Kyushu) is used for the outer fabric. Each one is thick, the skin is thick, and the fibers are fine, so it is elastic and has excellent durability.
TatamiRush has a natural purification effect on air and a humidity control effect. In addition, it is hard to get dirty and changes to golden color as it is used, and it becomes a good color. The outer frame uses the same color for all color developments. Good even when used in combination with different colors!
As it is a lightweight type, it can be easily carried, installed, and tidied up. The back side is processed to be non-slip.
Japanese style modern and simple Tatami ZABUTON Japanese cushion.
Each product is hand-colored by a craftsman, and each product is characterized by subtle color unevenness and shades. Even products of the same color are "one-of-a-kind items" with slightly different shades of dyeing.
Uses Japanese Tatami Rush Grass. Each Tatami Rush Grass from Japan is thick, the skin is thick and the texture is fine, so it is elastic and has excellent durability.
A technique called crest weaving is used to weave rush in the same way as ordinary floor covering to create a solid fabric.
The material inside is a three-layer structure of felt and urethane, and has a good cushioning property. It is a refreshing type Tatami cushion with the outer frame part finished by Chidori processing.
Natural functions of Tatami Rush Grass include air purification, humidity control, deodorization, and antibacterial deodorization.
The "Tatami Rush Grass" cushion is perfect for Japanese homes with high humidity all year round. Made from natural Tatami Rush Grass, it is breathable and comfortable to sit on for long periods of time. Tatami Rush Grass has the property of being resistant to stains, so you can clean it by simply wiping it with a dry rag and drying it in the shade.
◆ Precautions for use and care
* TOKYO STORE will ship as quickly as possible, but this Tatami rug carpet is made after ordering and may take 5-7 business days to ship.
Thank you for your understanding.
* Wipe lightly twice with a dry cloth or rag before use.
Do not wipe with water as it may cause mold.
* If you spill water, it will not penetrate inside if you absorb the water early.
Do not rub strongly, but wipe with a tissue.
* For normal maintenance, use a vacuum cleaner!
Clean to absorb the gap.
* If you dry it in the shade regularly and keep it well ventilated, you can prevent the growth of mold.
* Since it is a natural material and processed by hand by craftsmen, the shape and display size may differ slightly.
Thank you for understanding.
* AS EACH ITEM IS HANDMADE ONE BY ONE, THERE MAY BE SLIGHT DIFFERENCES IN COLOR, SHAPE, AND SIZE.
* DEPENDING ON YOUR DEVICE AND VIEWING ENVIRONMENT, THE COLOR AND TEXTURE OF THE PHOTO MAY LOOK SLIGHTLY DIFFERENT FROM THE ACTUAL ONE.
THANK YOU FOR YOUR UNDERSTANDING.
* TOKYO STORE IS CLOSED ON SATURDAYS, SUNDAYS, AND PUBLIC HOLIDAYS.
* IN RARE CASES, THE STOCK MAY BE OUT OF STOCK BECAUSE THE STOCK IS SHARED WITH OTHER SALES SITES. IN THAT CASE, WE WILL NOTIFY YOU IMMEDIATELY.
* TOKYO STORE does NOT collect any local duties, taxes or fees on international orders.
For countries that apply sales taxes and / or customs duties (esp. European countries), if applicable, those charges will be payable to local authorities before delivery.