Description
Tatami Rug Carpet Highest grade quadruple Weaving Brown made in Japan
A quadruple Weaving red Rush rug carpet finished with a unique ultra-special weave.
Size / Color
RED:about 191 x 191 cm
Brown:about 191 x 191 cm
Producing area: Japan
Material / Ingredient: Material: Outer material = rush (from Kyushu)
* Crest weave, quadruple weave outer frame = 100% cotton
What are the features of this Rush rug carpet?
We use carefully selected rushes about 2.2 times (compared to the manufacturer) compared to regular products.
The outer frame fabric uses Kurume woven fabric.
Kurume weaving is a traditional weaving in the Kurume region of Fukuoka prefecture, and is a valuable weaving that is often used for kimono and clothes.
The weaver of this product is a skilled craftsman for 20 to 40 years.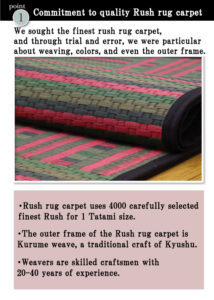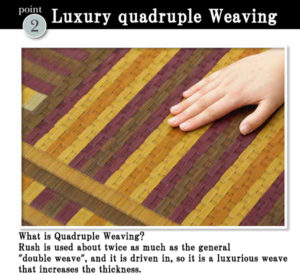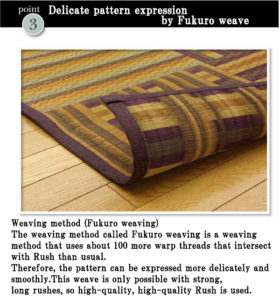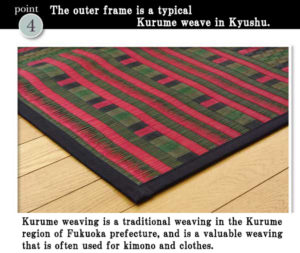 As a feature of the pattern, we made it with the concept of "easy to lay down, which suits both Japanese-style and Western-style rooms."
Since we want you to use it for a long time, we have a lattice pattern that you will not get tired of, and the details are finished in a design with changes such as dots and blur.
Furthermore, this Rush rug carpet is woven in four layers to create a product with durability, volume, and an overwhelming presence.
We use Japanese (Kyushu) rush.
Each one is thick, the skin is thick, and the fibers are fine, so it is elastic and has excellent durability.
Rush has a natural purification effect on air and a humidity control effect. In addition, it is hard to get dirty and changes to golden color and tastes as it is used.
Aomori Hiba processing (antibacterial and deodorant effect) is applied to rush.
◎ commitment to quality point!
・ We are particular about the weave, colors, and outer frame.
If you lay it down, a high-quality space will expand.
-Uses more than 4000 of the finest Rush carefully selected for each tatami size.
(General Japanese Rush rug items are 2700-3000)
・ The outer frame used is a typical Kurume weave in Kyushu.
・ Rush rug weaving craftsmen are made by veteran craftsmen with more than 20 years of Rush craftsmen.
What is Quadruple Weaving?
Rush is used about twice as much as the general "double weave", and it is driven in, so it is a luxurious weave that increases the thickness.
◎ Weaving method (Fukuro weaving)
The weaving method called Fukuro weaving is a weaving method that uses about 100 more warp threads that intersect with Rush than usual.
Therefore, the pattern can be expressed more delicately and smoothly.
This weave is only possible with strong, long rushes, so high-quality, high-quality Rush is used.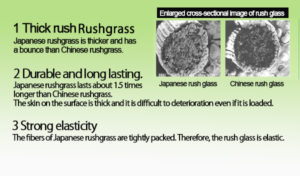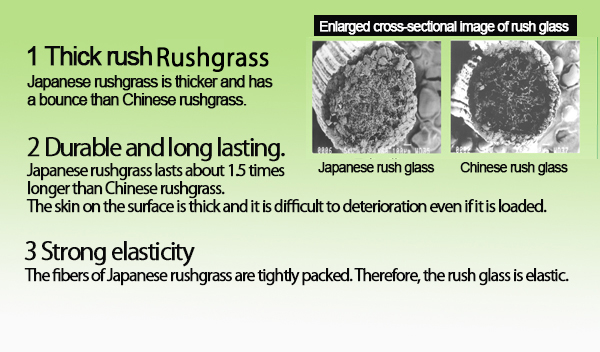 ◆ Precautions for use and care
* Wipe lightly twice with a dry cloth or rag before use.
Do not wipe with water as it may cause mold.
* If you spill water, it will not penetrate inside if you absorb the water early.
Do not rub strongly, but wipe with a tissue.
* For normal maintenance, use a vacuum cleaner!
Clean to absorb the gap.
* If you dry it in the shade regularly and keep it well ventilated, you can prevent the growth of mold.
* Since it is a natural material and processed by hand by craftsmen, the shape and display size may differ slightly.
Thank you for understanding.
* AS EACH ITEM IS HANDMADE ONE BY ONE, THERE MAY BE SLIGHT DIFFERENCES IN COLOR, SHAPE, AND SIZE.
* DEPENDING ON YOUR DEVICE AND VIEWING ENVIRONMENT, THE COLOR AND TEXTURE OF THE PHOTO MAY LOOK SLIGHTLY DIFFERENT FROM THE ACTUAL ONE.
THANK YOU FOR YOUR UNDERSTANDING.
* TOKYO STORE IS CLOSED ON SATURDAYS, SUNDAYS, AND PUBLIC HOLIDAYS.
* IN RARE CASES, THE STOCK MAY BE OUT OF STOCK BECAUSE THE STOCK IS SHARED WITH OTHER SALES SITES. IN THAT CASE, WE WILL NOTIFY YOU IMMEDIATELY.
* TOKYO STORE WILL SHIP AS SOON AS POSSIBLE, BUT IT MAY TAKE 3 TO 7 BUSINESS DAYS TO PREPARE FOR SHIPPING DEPENDING ON THE ORDERED ITEM.
THANK YOU FOR YOUR UNDERSTANDING.
* TOKYO STORE does NOT collect any local duties, taxes or fees on international orders.
For countries that apply sales taxes and/or customs duties (esp. European countries), if applicable, those charges will be payable to local authorities before delivery.