Description
Rosary Mala Juzu Prayer beads High quality Star Moon Bodhi Tree Blue Tiger Eye Stone Made in Kyoto
[Material of Juzu Ball]
High quality Star Moon Bodhi Tree 20 Juzu Ball
Main Juzu Prayer beads…High quality Star Moon Bodhi Tree (14mm)
Big Juzu ball…Blue Tiger Eye Stone (18mm)
Small Juzu Prayer beads…Blue Tiger Eye Stone (12mm)
Tassel material: Pure silk headed tassel black/iron dark blue
*The beads are in a paulownia box.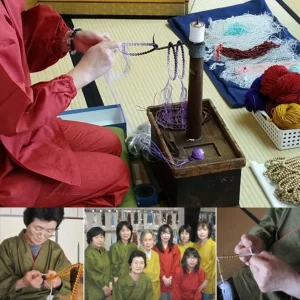 The bodhi tree is one of the three sacred trees of Buddhism. In addition, this rosary for men uses the Star Moon Bodhi Tree, which is very popular among Bodhi trees, and the beautiful Blue Tiger Eye Stone where you can see the stripes unique to tiger eyes in the dark blue accent.
The Star Moon Bodhi Tree is also famous for the fact that Buddha attained enlightenment under it.
The surface of Juzu Prayer beads is characterized by fine speckles reminiscent of stars and the moon, and the more it is used, the more it changes to a beautiful amber color.
Among such starry Bodhi trees, we have used a carefully selected natural "high-quality Starry Bodhi tree".
The combination with blue tiger eye stone also has excellent color contrast, making it a stylish and elegant finish.
The tassel is made of high-quality pure silk, and the two tassel colors enhance the beauty of the Juzu Prayer beads.
This is a masterpiece made by Juzu Prayer Beads craftsmen in Kyoto.
◎ Power of stone
Blue Tiger Eye Stone has long been said to be a stone that repels evil and invites good luck.
In addition, the Blue Tiger Eye Stone is said to have the power to cultivate insight and decisiveness, lead things to success, and improve financial and work luck.
* TokyoStore is closed on saturdays, sundays, and public holidays.
* Depending on your device and viewing environment, the color and texture of the photo may look slightly different from the actual one.
Thank you for your understanding.
* In rare cases, the stock may be out of stock because the stock is shared with other sales sites.
* TokyoStore will ship as soon as possible, but it may take 3 to 7 business days to prepare for shipping depending on the ordered item.
Thank you for your understanding.
* TokyoStore does not collect any local duties, taxes or fees on international orders.
for countries that apply sales taxes and / or customs duties (esp. european countries), if applicable, those charges will be payable to local authorities before delivery.