Description
Rosary Mala Juzu Prayer beads ebony mandarin orange ball dragon carving genuine crystal Made in kyoto
[Material of Juzu Ball]
ebony mandarin orange 23 Juzu Ball
*Big Juzu Prayer beads dragon carved genuine crystal
Main Juzu Prayer beads…Ebony mandarin orange ball (16mm×12mm)
Big Juzu Prayer beads…Dragon carved genuine crystal (18mm)
Small Juzu Prayer beads…Genuine crystal (12mm)
Tassel material: Pure silk headed tassel Gray brown color
*The beads are in a paulownia box.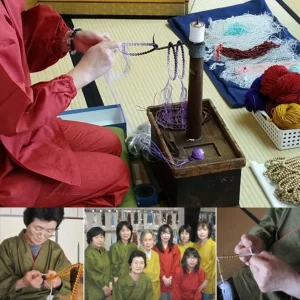 It is a rosary for men that uses ebony that has been chicly processed, and uses dragon-carved genuine crystal for Big Juzu Prayer beads.
Subbing process is a process to finish Juzu Prayer beads only by polishing without coating etc. in order to make the best use of the material.
You can feel the natural texture and feel of ebony by finishing it with a bare-baking process, which cannot be done if the quality of Juzu Prayer beads is not good.
The Big Juzu Prayer beads use dignified dragon-carved genuine crystal, and you can feel the outstanding power that can only be produced with these Big Juzu Prayer beads.
In ancient China, only the emperor was allowed to use it, and the highest rank among dragons is the "five-clawed dragon".
The five-clawed dragon is said to grasp "status", "honor", "power", "fortune" and "prosperity" with its five claws.
The tassel is made of high quality pure silk.
It is a masterpiece made by a master craftsman of Kyoto's prayer beads.
◎ Power of stone
Crystals, also known as crystals, are colorless, transparent and mysterious stones that have long been said to ward off evil.
It is also the national stone (symbolic stone) of Japan and counted as one of the seven treasures in Buddhism.
Crystals are said to have the power to ward off evil, purify everything, and invite good luck.
* TokyoStore is closed on saturdays, sundays, and public holidays.
* Depending on your device and viewing environment, the color and texture of the photo may look slightly different from the actual one.
Thank you for your understanding.
* In rare cases, the stock may be out of stock because the stock is shared with other sales sites.
* TokyoStore will ship as soon as possible, but it may take 3 to 7 business days to prepare for shipping depending on the ordered item.
Thank you for your understanding.
* TokyoStore does not collect any local duties, taxes or fees on international orders.
for countries that apply sales taxes and / or customs duties (esp. european countries), if applicable, those charges will be payable to local authorities before delivery.