Description
This Rush tatami fabric tatami mattress pad uses natural materials and is particular about its soft texture because it is a bedding that comes in contact with the skin for a long time.
Size: about 88 x 200 cm
Producing area: Made in Japan (pure domestic)
Material / Ingredients: Material: Rush (Kyushu 3.3 woven press processing)
Outer part = 65% polyester, 35% cotton * With rubber bands at the back four corners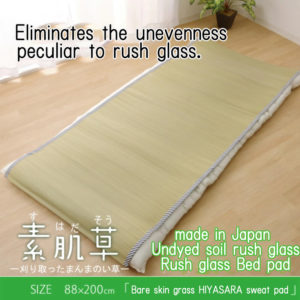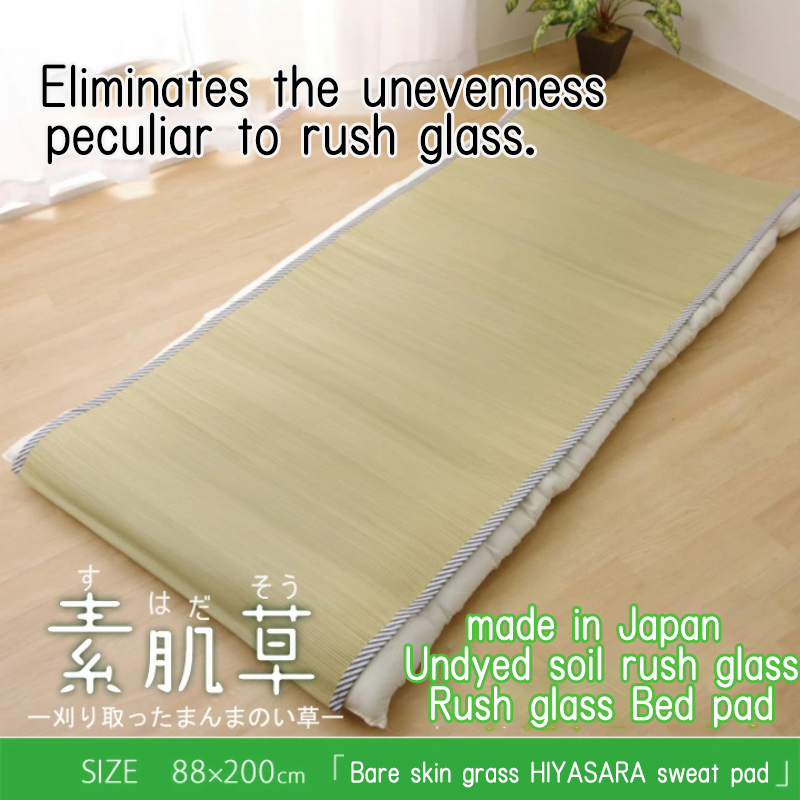 As an effect of rush
1. Hygroscopicity about 2.5 times that of cotton
2. Hard to get stuffy. By absorbing the moisture from sweat, it lowers the temperature and promotes a comfortable sleep.
3. Reduces the smell of sweat. It suppresses 90% or more of the chemical substances that cause the smell of sweat.
We use domestic (Kyushu) supple Rush tatami fabric that does not use dyes or dyed soil. It is soft, smooth and fits your body.
You can also feel the natural and rustic colors and scents.
It is an additive-free, coloring-free product produced by a manufacturing method that is extremely gentle on the body.
By pressing the rush glass, unevenness is eliminated compared to normal rush glass sheets.
Finished with specifications that prevent sleeping marks on the skin and face.
There are rubber bands at the four corners on the back.
* Because it is a natural material and each craftsman processes it by hand, the shape may vary and the display size may differ slightly.
Thank you for understanding.