Description
Tatami rug mat SAKURA design triple weaving made in Japan
Size: Approx. 75.2 x 75.2 in (191 x 191 cm) / Approx. 75.2 x 98.4 in (191 x 250 cm)
Material: 100% Japanese Tatami rush grass
Country of Origin: Made in Japan
The Tatami rug mat feels comfortable on bare feet and reduces stickiness in the summer, while covering the coldness of the floor in the winter.
A comfortable life with the humidity control function, deodorant effect, and antibacterial action of Tatami rush grass.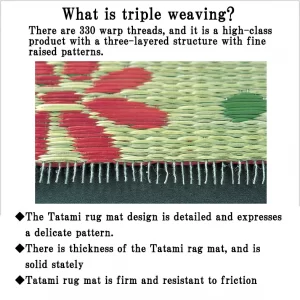 What is triple weaving?
There are 330 warp threads, and it is a high-class product with a three-layered structure with fine raised patterns.
・The Tatami rug mat design is detailed and expresses a delicate pattern.
・There is thickness of the Tatami rag mat, and is solid stately
・ Tatami rug mat is firm and resistant to friction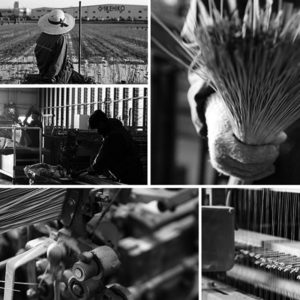 ◆ Precautions for use and care
● Depending on availability, it may take 5-7 business days to ship.
* Holidays: Saturdays, Sundays and public holidays
● Wipe lightly twice with a dry cloth or rag before use.
* Do not wipe with water as it may cause mold.
● If you spill water, it will not penetrate inside if you absorb the water early.
* Do not rub strongly, but wipe with a tissue.
● For normal maintenance, use a vacuum cleaner!
Clean to absorb the gap.
● If you dry it in the shade regularly and keep it well ventilated, you can prevent the growth of mold.
● Since it is a natural material and processed by hand by craftsmen, the shape and display size may differ slightly.