Description
Tatami rug carpet hemp and cotton yarn woven Kiyomasa made in Japan
*Tatami rug woven with linen thread and cotton thread.
●Size
34.6 in (88 cm) x 69.3 in (176 cm)
69.3 in (176 cm) x 69.3 in (176 cm)
69.3 in (176 cm) x 102.8 in (261 cm)
102.8 in (261 cm) x 102.8 in (261 cm)
102.8 in (261 cm) x 138.6 in (352 cm)
138.6 in (352 cm) x 138.6 in (352 cm)
Material: Tatami Rush (produced in Yatsushiro, Kumamoto Prefecture)
* Linen thread and cotton thread weaving
Outer frame = polypropylene, polyethylene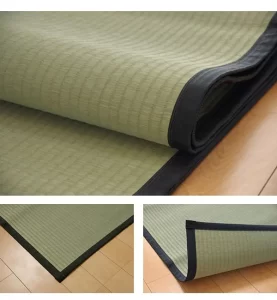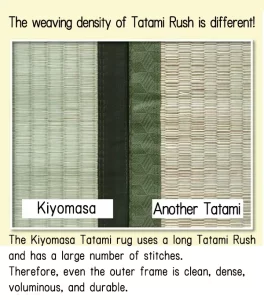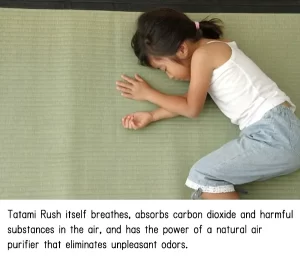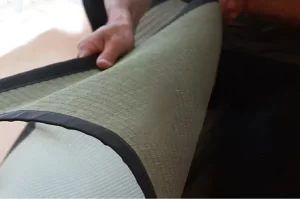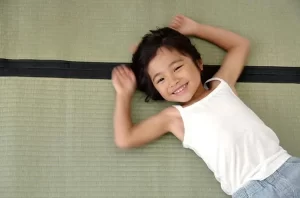 This is a Tatami rug carpet that is particular about its beauty and durability.
We use linen and cotton threads and use twice the amount of thread as in normal weaving.
Combining linen and cotton threads makes the thread itself very strong.
In addition, since each piece is thicker, the unevenness of the weave is clearly visible when woven, making it very beautiful.
This Tatami rug is made from Japanese Tatami Rush with a length of over 135cm. Carefully selected high-quality thick and long igusa is woven in high density, so it is strong and durable, and has a voluminous feel that is comfortable against the skin. About 95 cm of the length of 135 cm is used.
◆ Precautions for use and care
● Depending on availability, it may take 5-7 business days to ship.
* Holidays: Saturdays, Sundays and public holidays
● Wipe lightly twice with a dry cloth or rag before use.
* Do not wipe with water as it may cause mold.
● If you spill water, it will not penetrate inside if you absorb the water early.
* Do not rub strongly, but wipe with a tissue.
● For normal maintenance, use a vacuum cleaner!
Clean to absorb the gap.
● If you dry it in the shade regularly and keep it well ventilated, you can prevent the growth of mold.
● Since it is a natural material and processed by hand by craftsmen, the shape and display size may differ slightly.