Description
Noren Japanese Tapestry Seven fortune Cat Long size Made in Japan
Size / capacity
Approximately width 85 cm x length 170 cm
Color: Red / Yellow
Production area: Japan
Materials / Ingredients: 100% polyester
170cm long long size Noren tapestry.
A cute cat with a pasted picture style ♪
Seven animals bring good fortune with their lovely gestures!
Uses a checkered lace with just the right amount of sheerness.
Since the center is not cracked, you can cut it to the desired length and use it as a [Noren tapestry], or you can hang it on the wall without cutting it and use it like a [Noren tapestry].
I recommend it!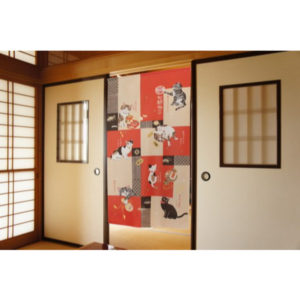 Precautions
[About the tension rod]
Tension rods and goodwill rods are not included.
[About washing]
Due to the nature of the fabric, it may shrink when washed. Please wash after fully understanding.
If the color is dark, the color may fade. When washing, please use the product alone. We also recommend hand-washing.
[Sheer feeling]
It is a standard product that casually blocks the line of sight, and can be seen through, especially when the other side is bright.
[About cracking]
This Noren is not cracked.
There is a cut line in the middle that will not fray even if you cut it with scissors, so cut it as you like.
[Please understand]
The colors on the screen may differ slightly from the actual product depending on the display settings.