Description
Kotatsu futon traditional checkered design
*This product is only Kotatsu futon blanket. The table, mat, other items are not included.
Production area: fabric = China, final processing = Japan
Material/component: Material/component: Outer material = 100% polyester [peach skin] Lining = 100% polyester [flannel]
Inside material polyester cotton = 100% polyester
*The kotatsu rug carpet is sold separately.
size
Square80.7×80.7in
Rectangle80.7×96.5in
Large Rectangle80.7×112.2in
*As this is a polyester cotton kotatsu futon, the size may vary slightly.
color : Green / Pink
*The colors on your screen may differ slightly from the actual product depending on your browser and monitor settings.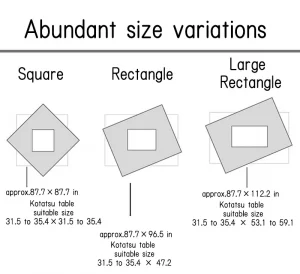 Kotatsu table suitable size
Square: 31.5 to 35.4 × 31.5 to 35.4
Rectangle: 31.5 to 35.4 × 47.2
Large rectangle: 31.5 to 35.4 × 53.1 to 59.1
A kotatsu futon with a modern arrangement of the traditional Japanese checkered pattern.
The kotatsu futon uses a ""peach skin"" processed fabric that is finely brushed and finished as soft as peach skin.
The lining is made of soft and comfortable flannel fabric.
The plump and voluminous feel is made possible by the polyester cotton filling process in Japan.
Reliable quality that is carefully finished one by one.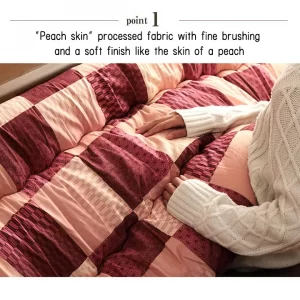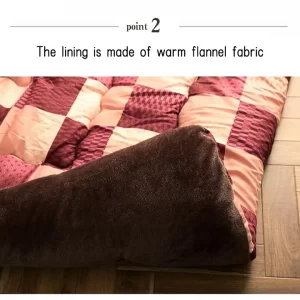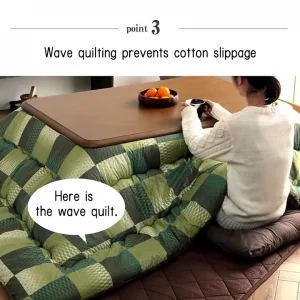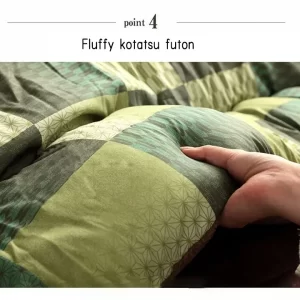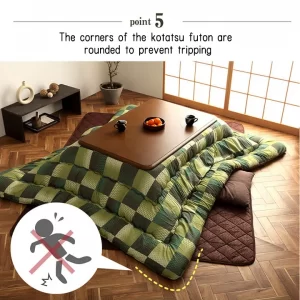 Features of kotatsu futon
1.Energy-saving kotatsu is an energy-saving heater that heats only the areas where it is needed.
2.Clean Kotatsu is clean because it does not emit harmful substances such as carbon dioxide.
3.A space where family and friends can relax together, your heart will be warmed up.
◆ About shipping date
・Depending on availability, it may take 5-7 business days to ship.
*Holidays: Saturdays, Sundays and public holidays
・Kotatsu futon blanket are shipped by Japan Post Express shipping.
*Shipping time of Japan Post Express Delivery
Asia: about 1 week
U.S.: about 1 to 2 weeks
Other area: about 1 to 3 weeks
In the case of delivery by Japan Post, the delivery item will be handed over to the local post office after arrival in the local country.
For example, in rare cases when a package is stopped at customs, etc.,
it may be necessary for the customer to call the post office directly.
◆Custom duties
Customers are responsible for custom duties (tariffs) which might be charged in your country.