Description
Hinoki cypress traditional bath chair and Hinoki cypress hot spring ball set made in Japan
・Hinoki cypress bath chair size
Size: About width 10.6 × depth 5.9 × height 7.9in
・Hinoki cypress hot spring ball x 10
Diameter about 1.4in (3.5cm)
(Japanese cypress)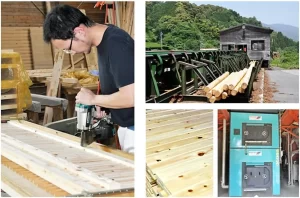 ◯Hinoki cypress bath chair
It is a bath chair using Hinoki cypress from Kochi prefecture in Japan.
The refreshing scent of Hinoki cypress will make you feel like a hot spring every day.
Hinoki cypress items made in Japan, one by one handcrafted by craftsmen.
You can use it with confidence because it uses unpainted Japanese cypress wood.
Please enjoy the refreshing scent unique to unpainted.
You will enjoy taking a bath.
〇 Hinoki hot spring ball
Log aroma and hot spring ball made of natural cypress from Gifu prefecture.
Hinokitiol and terpene, the aroma components of Hinoki,
A lot of it is contained in the red part of the branch of Hinoki.
Tono cypress, which has fine annual rings, and especially the core of thick branches of large trees that have grown old, contains a large amount of terpenes.
*When the scent of cypress becomes weak, you can restore the scent by scraping the ball with sandpaper.
Handling Notes
*Wood grain, color, and weight may vary slightly depending on the material.
* If the bath bucket is dried too much, the outer frame (copper frame) will fall off.
(Forced drying such as direct sunlight is strictly prohibited)
*After use, wash thoroughly with fresh water, lay down diagonally to allow air to pass through, and dry gently.
Notes
* As each item is handmade one by one, there may be slight differences in color, shape, and size.
* Depending on your device and viewing environment, the color and texture of the photo may look slightly different from the actual one.
Thank you for your understanding.
* TokyoStore is closed on saturdays, sundays, and public holidays.
* in rare cases, the stock may be out of stock because the stock is shared with other sales sites.
* TokyoStore will ship as soon as possible, but it may take 3 to 5 business days to prepare for shipping depending on the ordered item.
Thank you for your understanding.
* TokyoStore does not collect any local duties, taxes or fees on international orders.
for countries that apply sales taxes and / or customs duties (esp. european countries), if applicable, those charges will be payable to local authorities before delivery.