Description
Buddha statue Amida Nyorai standing statue Jodo Shinshu height 5.9 in
Buddha statue specifications
・Size: about height 5.9 in width 2.2 in
・Pure gold plating finish
・Made of alloy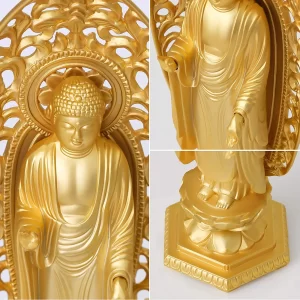 What is Amida Nyorai?
Amida Nyorai is also known as the Infinite Lifespan Nyorai because it has an infinite lifespan.
With his limitless life and limitless wisdom, he continues to save people in the Western Pure Land. It is the most popular Tathagata.
"Namu Amida Butsu" means "I will devote myself to Amida Nyorai".
No matter how bad a person is, if he chants "Namu Amida Butsu", he is a Buddha with a big heart who will take him to the Pure Land after death.
The act of coming to pick up a dead person is called raigo, and they come from the other side of the mountain with lively music accompanied by Kannon Bodhisattva and Seishi Bodhisattva as attendants of Amida Nyorai.
Even the image of "death" that we fear
It is a kind-hearted Buddha that wraps you warmly and makes you laugh.
◎ This Buddha statue was made in Japan's best casting Buddha statue town.
Takaoka is a copperware town that boasts Japan's top production area for cast Buddha statues.
The area has a deep connection with Buddhism, and the production of Buddhist statues, Buddhist altars, and fittings is also popular. Casting, finishing, coloring, etc., are made one by one with the skill and rich sensitivity of craftsmen who have inherited traditional crafts. increase.
This casting Buddha made in such a town of Takaoka is made by Mr. Kageaki Watanabe of "Buddhist sculptor".
And we can create a highly accurate mold from the prototype made with all our heart.
The die-casting method, in which metal is poured into a mold at high pressure and solidified, is more precise than other castings, and the casting surface is smooth and beautifully finished.
After that, the cast Buddha statue is completed by coloring one by one by skilled craftsmen.
The face of the Buddha, which was created by fusing the delicate techniques of the "busshi" and the modern casting method, is very delicate and has a beautiful presence.
It is the best "cast Buddha" that allows you to feel the presence of Buddha close to you in your daily life.
* TokyoStore is closed on saturdays, sundays, and public holidays.
* In rare cases, the stock may be out of stock because the stock is shared with other sales sites.
* TokyoStore will ship as soon as possible, but it may take 3 to 7 business days to prepare for shipping depending on the ordered item.
Thank you for your understanding.
* TokyoStore does not collect any local duties, taxes or fees on international orders.
for countries that apply sales taxes and / or customs duties (esp. european countries), if applicable, those charges will be payable to local authorities before delivery.