Description
Tokoname ware Kyusu teapot ceramic mesh type cherry blossom design
Size/capacity: about 260cc
Capacity is 80% when full.
Country of Origin: Japan
Material / component: Pottery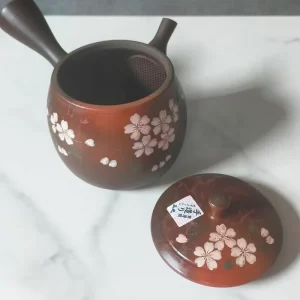 ■ Akane Shibori
"Seaweed" is pasted on the surface of vermilion pottery and fired, and finally the pot is fired again.
In addition, the surface is polished to give it a glossy finish, giving it a marble-like pattern.
It is a Kyusu teapot of "three times fire" that took time and effort.
■ Cera mesh net
In addition to being easy to hold and having a comfortable spout, Tokoname ware teapots are widely trusted because of the intricacy of the tea strainer.
It is a traditional technique that Tokoname ware teapots are proud of.
■ What is Tokoname ware?
What is a Tokoname ware Kyusu teapot?
Where the glaze is not applied to the copper. Combined with this and the firing temperature (around 1120 to 1140 degrees), the surface of the fired dough is slightly uneven. Therefore, you can make a mellow and delicious green tea.
Tokoname ware is a type of pottery produced in and around Tokoname City, Aichi Prefecture.
A traditional Japanese craft, it is considered one of the six ancient kilns of Japan, and is known as ceramics that have been produced for a long time since the Middle Ages.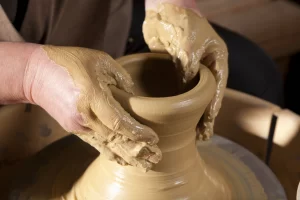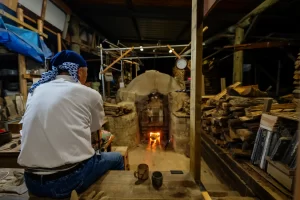 * AS EACH ITEM IS HANDMADE ONE BY ONE, THERE MAY BE SLIGHT DIFFERENCES IN COLOR, SHAPE, AND SIZE.
* DEPENDING ON YOUR DEVICE AND VIEWING ENVIRONMENT, THE COLOR AND TEXTURE OF THE PHOTO MAY LOOK SLIGHTLY DIFFERENT FROM THE ACTUAL ONE.
THANK YOU FOR YOUR UNDERSTANDING.
* TokyoStore IS CLOSED ON SATURDAYS, SUNDAYS, AND PUBLIC HOLIDAYS.
* IN RARE CASES, THE STOCK MAY BE OUT OF STOCK BECAUSE THE STOCK IS SHARED WITH OTHER SALES SITES. IN THAT CASE, WE WILL NOTIFY YOU IMMEDIATELY.
* TokyoStore WILL SHIP AS SOON AS POSSIBLE, BUT IT MAY TAKE 3 TO 7 BUSINESS DAYS TO PREPARE FOR SHIPPING DEPENDING ON THE ORDERED ITEM.
THANK YOU FOR YOUR UNDERSTANDING.
* TokyoStore does NOT collect any local duties, taxes or fees on international orders.
For countries that apply sales taxes and / or customs duties (esp. European countries), if applicable, those charges will be payable to local authorities before delivery.