Description
Tatami rug carpet Triple weave Red made in Japan
Tatami rug carpet brand, a regional brand in the Kyushu / Okinawa region.
Tatami rug carpet brand made using RUSH dyed brightly in red, blue, yellow, etc.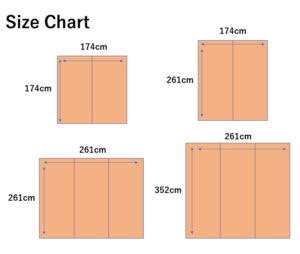 2 tatami mats (approx. 174 x 174 cm)
3 tatami mats (approx. 174 x 261 cm)
4.5 tatami mats (approx. 261 x 261 cm)
6 tatami mats (approx. 261 x 352 cm)
Producing area: Japan (pure domestic)
Material / Ingredient: Material: Outer material = rush (from Kyushu)
* Fukuro Triple woven lining = non-woven fabric Outer frame = 100% cotton
It is a flower goza carpet(Tatami rug carpet) that won the Excellence Award at the Fukuoka Prefecture Fair, which is evaluated for its design and quality.
Finished with Triple weave, which has a clearer color pattern than Fukuro weave.
We use Japanese (Kyushu) rush grown with reduced pesticides using organic fertilizer.
It has excellent durability and elasticity compared to ordinary rush.
Compared to ordinary rush, the brown color is slower and the blue color remains longer.
As the days go by, it changes to amber and becomes more elegant.
In addition, each rush is hand-selected and only the best ones are used, making it a wonderful dish with a deep taste.
Rush has a natural purification effect on air and a humidity control effect.
In addition, it is hard to get dirty and changes to golden color and tastes as it is used.
Aomori Hiba processing is applied to rush. (Antibacterial and deodorant effect)
Fukuoka Prefecture Rush Fair
Received ""Excellence Award""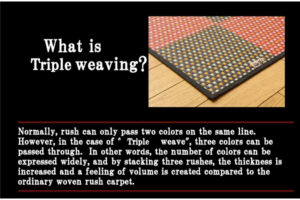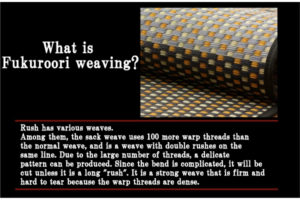 What is Fukuro weaving?
Rush has various weaves.
Among them, the sack weave uses 100 more warp threads than the normal weave, and is a weave with double rushes on the same line. Due to the large number of threads, a delicate pattern can be produced.
Since the bend is complicated, it will be cut unless it is a long ""rush"". It is a strong weave that is firm and hard to tear because the warp threads are dense.
What is Triple weaving?
Normally, rush can only pass two colors on the same line.
However, in the case of ""Triple weave"", three colors can be passed through.
In other words, the number of colors can be expressed widely, and by stacking three rushes, the thickness is increased and a feeling of volume is created compared to the ordinary woven rush carpet.
◆ Precautions for use and care
* Wipe lightly twice with a dry cloth or rag before use.
Do not wipe with water as it may cause mold.
* If you spill water, it will not penetrate inside if you absorb the water early.
Do not rub strongly, but wipe with a tissue.
* For normal maintenance, use a vacuum cleaner!
Clean to absorb the gap.
* If you dry it in the shade regularly and keep it well ventilated, you can prevent the growth of mold.
* Since it is a natural material and processed by hand by craftsmen, the shape and display size may differ slightly.
Thank you for understanding.
* AS EACH ITEM IS HANDMADE ONE BY ONE, THERE MAY BE SLIGHT DIFFERENCES IN COLOR, SHAPE, AND SIZE.
* DEPENDING ON YOUR DEVICE AND VIEWING ENVIRONMENT, THE COLOR AND TEXTURE OF THE PHOTO MAY LOOK SLIGHTLY DIFFERENT FROM THE ACTUAL ONE.
THANK YOU FOR YOUR UNDERSTANDING.
* TOKYO STORE IS CLOSED ON SATURDAYS, SUNDAYS, AND PUBLIC HOLIDAYS.
* IN RARE CASES, THE STOCK MAY BE OUT OF STOCK BECAUSE THE STOCK IS SHARED WITH OTHER SALES SITES. IN THAT CASE, WE WILL NOTIFY YOU IMMEDIATELY.
* TOKYO STORE WILL SHIP AS SOON AS POSSIBLE, BUT IT MAY TAKE 3 TO 7 BUSINESS DAYS TO PREPARE FOR SHIPPING DEPENDING ON THE ORDERED ITEM.
THANK YOU FOR YOUR UNDERSTANDING.
* TOKYO STORE does NOT collect any local duties, taxes or fees on international orders.
For countries that apply sales taxes and/or customs duties (esp. European countries), if applicable, those charges will be payable to local authorities before delivery.