Description
Tatami Japanese cushion and japanese teapot organic green tea set
・Tatami Japanese cushion 2 piece set
Tatami ZABUTON Japanese Cushion Chidori 2 Piece Set Made in Japan
Size / Capacity: Approximately 21.7 x 21.7 in 2 piece set
Color: Black / Green
Delivered as a set of 2 Tatami cushions of the same color
Producing area: Japan
Material / ingredient: Outer material = Tatami Rush Grass Material in: Top / bottom felt 12 mm Core part in: Urethane 25 mm (3-layer structure)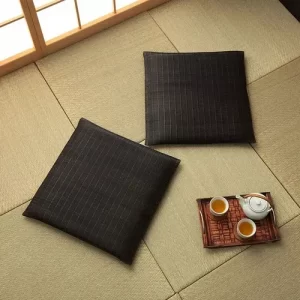 ・Tokoname Kyusu teapot / 2 teacups
Tokoname ware Black Kyusu Japanese teapot set teacups×2 Made in Japan
Discover good things in Japan!
Works that craftsmen have carefully created one by one with conviction.
I want you to use a good one for a long time.
The craftsman's sensibility and skills are fully demonstrated
It is a recommended product not only for Japan but also for overseas people.
Color: Black / Marble / White
Size/capacity
[Kyusu Japanese teapot] Capacity: about 250cc
【Japanese tea cup】 Diameter 7.5m x height 5.5cm Capacity: about 120cc
Producing area: Japan
Material / ingredient: Pottery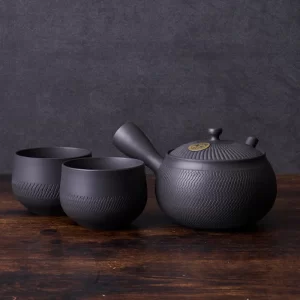 ・TokyoTeaGarden Organic Green Tea 80g Made in Kyoto
Organic Special Sencha Green Tea
Capacity: 80g
Origin: Kyoto, Japan
Special Organic Sencha is produced pesticide-free and organically (certified) using only the first picked tea leaves in the year in Ujitawara of Kyoto, a historic and traditional birthplace of Japanese tea.
The leaves of Special Organic tea grow under the sunlight and the nutriment in natural circumstance, and theanine, a component of sweetness and umami (savory) flavor, changes to bitterness of catkin, which creates elegant, refreshing and clear taste with well-balanced astringency , bitterness and aroma.
It becomes more astringent when brewed in hot water.
Basic active components of tea are tannin, caffein and vitamins.
Special Organic Sencha contains more vitamins, specifically vitamin C, compared to the other teas.
We hope you have an elegant tea time for your own with delicious Special Organic Tea.
*USDA American Organic Certification Mark
Our Japanese tea has acquired the American organic certification mark, so you can drink Japanese tea safely and securely.
*What is the producing district, Uji in Kyoto?
Known as a birthplace of green tea, this is the place where very high qualified tea is produced thanks to the limestone ground with full of calcium, good drainage, and suitable climate for tea growing with temperature difference in the morning and the evening.
~Japanese tea brand "Tokyo Tea Garden"~
In 2021, Tokyo Tea Garden put on sale a Japanese Tea Brand offered from Tokyo to the world based on the concept "Introducing authentic organic Japanese tea of ​​tradition, and leading the people all over the world to healthy life, feeling free to serve tea in their own style♬"
◆ Precautions for use and care
* Green tea cannot be shipped because it cannot pass through Australian customs.
* TOKYO STORE will ship as quickly as possible, but this Tatami rug carpet is made after ordering and may take 5-7 business days to ship.
Thank you for your understanding.
* Wipe lightly twice with a dry cloth or rag before use.
Do not wipe with water as it may cause mold.
* If you spill water, it will not penetrate inside if you absorb the water early.
Do not rub strongly, but wipe with a tissue.
* For normal maintenance, use a vacuum cleaner!
Clean to absorb the gap.
* If you dry it in the shade regularly and keep it well ventilated, you can prevent the growth of mold.
*Since it is a natural material and processed by hand by craftsmen, the shape and display size may differ slightly.
Thank you for understanding.
* AS EACH ITEM IS HANDMADE ONE BY ONE, THERE MAY BE SLIGHT DIFFERENCES IN COLOR, SHAPE, AND SIZE.
* DEPENDING ON YOUR DEVICE AND VIEWING ENVIRONMENT, THE COLOR AND TEXTURE OF THE PHOTO MAY LOOK SLIGHTLY DIFFERENT FROM THE ACTUAL ONE.
THANK YOU FOR YOUR UNDERSTANDING.
* TOKYO STORE IS CLOSED ON SATURDAYS, SUNDAYS, AND PUBLIC HOLIDAYS.
* IN RARE CASES, THE STOCK MAY BE OUT OF STOCK BECAUSE THE STOCK IS SHARED WITH OTHER SALES SITES. IN THAT CASE, WE WILL NOTIFY YOU IMMEDIATELY.
* TOKYO STORE does NOT collect any local duties, taxes or fees on international orders.
For countries that apply sales taxes and / or customs duties (esp. European countries), if applicable, those charges will be payable to local authorities before deivery.