Description
Seto ware Manekineko lucky beckoning cat gold
Size: about 5.3 in (13.5cm)
Country of Origin: Japan
Material / component: Ceramics (Seto ware)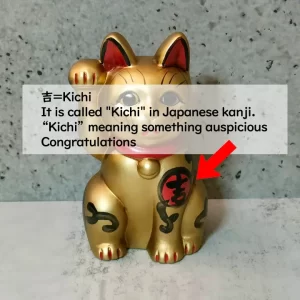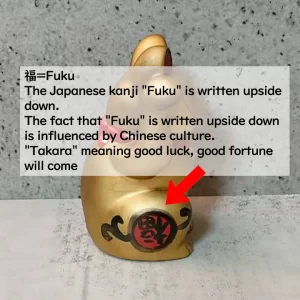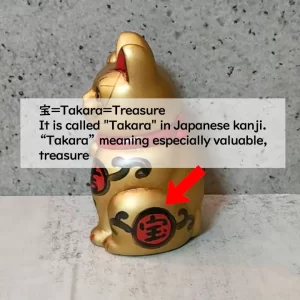 It is Manekineko lucky beckoning cat of Seto ware.
It is said that raising the right hand of Manekineko lucky beckoning cat invites financial luck, fortune and money.
In addition, the golden cat continues to be loved by people not only as an invitation for financial luck, but also as a prayer for the success of events.
What is a beckoning cat?
Manekineko lucky beckoning cat is a lucky charm unique to Japan that invites good luck with its adorable pose.
What is Seto ware?
It is a pottery made mainly in Seto City, Aichi Prefecture.
吉=Kichi
It is called "Kichi" in Japanese kanji.
"Kichi" meaning something auspicious Congratulations
宝=Takara=Treasure
It is called "Takara" in Japanese kanji.
"Takara" meaning especially valuable, treasure.
福=Fuku
The Japanese kanji "Fuku" is written upside down.
The fact that "Fuku" is written upside down is influenced by Chinese culture.
"Takara" meaning good luck, good fortune will come
◎Please note
* As each item is handmade one by one, there may be slight differences in color, shape, and size.
* Depending on your device and viewing environment, the color and texture of the photo may look slightly different from the actual one.
Thank you for your understanding.
* TokyoStore is closed on saturdays, sundays, and public holidays.
* in rare cases, the stock may be out of stock because the stock is shared with other sales sites.
* TokyoStore will ship as soon as possible, but it may take 3 to 7 business days to prepare for shipping depending on the ordered item.
Thank you for your understanding.
* TokyoStore does not collect any local duties, taxes or fees on international orders.
for countries that apply sales taxes and / or customs duties (esp. european countries), if applicable, those charges will be payable to local authorities before delivery.