Description
This is a pillow made of Tatami material that is particular about the smooth texture of Tatami material, omitting the process of "mud dyeing" until it is made with Tatami items.
Because it is a bedding that touches the skin for a long time, we use natural materials and are particular about the soft touch.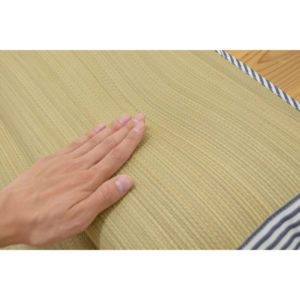 Size: about 50 x 30 cm
Producing area: Made in Japan (pure domestic)
Material / Ingredients: Material: Side area = Tatami Rush grass (Kyushu, undyed soil, pressed)
Middle material = 100% rushgrass chips
Outer part = 100% cotton
Benefits of a good night's sleep rush grass
1.Hygroscopicity about 2.5 times that of cotton
2.Hard to get stuffy.
By absorbing the moisture from sweat, it lowers the temperature and promotes a comfortable sleep.
3.Reduces the smell of sweat.
It suppresses 90% or more of the chemical substances that cause the smell of sweat.
Made from domestic (Kyushu) supple Tatami rush grass, it is soft and smooth to the touch.
I made a "dent" in the center of the pillow to fit my head.
This product is further pressed on the Tatami rush grass to eliminate unevenness compared to ordinary rush grass pillows.
The middle material is 100% rush chips. It is a product that you can feel the goodness of Tatami rush grass.
◆ Precautions for use and care
● Depending on availability, it may take 3-5 business days to ship.
* Holidays: Saturdays, Sundays and public holidays
● Wipe lightly twice with a dry cloth or rag before use.
* Do not wipe with water as it may cause mold.
● If you spill water, it will not penetrate inside if you absorb the water early.
* Do not rub strongly, but wipe with a tissue.
● For normal maintenance, use a vacuum cleaner!
Clean to absorb the gap.
● If you dry it in the shade regularly and keep it well ventilated, you can prevent the growth of mold.
● Since it is a natural material and processed by hand by craftsmen, the shape and display size may differ slightly.