Description
Design Rush tatami mat 70 cm square Made in Japan
Size / capacity: 70 x 70 x 1.7 cm
Number of sheets: 4 mat
Producing area: Made in Japan
Material / ingredient: Outer material = rush (from Kyushu)
Middle material = felt 15mm
Back = with connecting joint (non-slip)
8 colors: beige / black / brown / charcoal gray / dark green / gray / light green / red
It is a plain Rush tatami mat.
You can create a Japanese space just by placing the Rush tatami mat on the floor.
8 colors: Beige, black, brown, charcoal gray, dark green, gray, light green, red, please choose your favorite color.
It is also recommended to combine multiple colors.
It is a Rush tatami mat with a simple design that has a Japanese taste and does not disturb the atmosphere of the Western-style room, and is particular about the color that is easy to match with the room and furniture.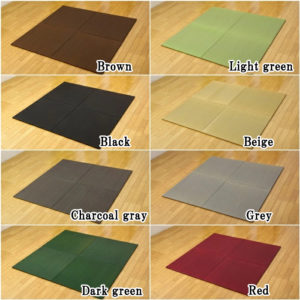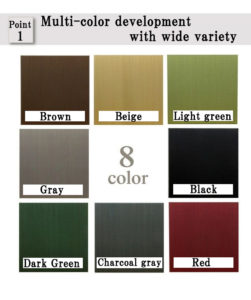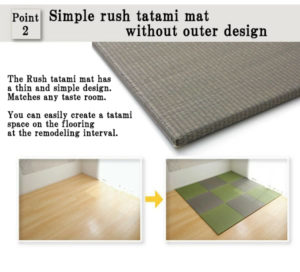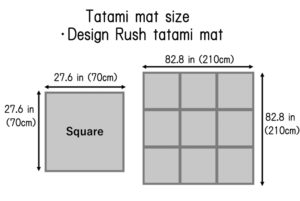 Japanese (Kyushu) rush is used for the outer material.
Each one is thick, the skin is thick, and the fibers are fine, so it is elastic and has excellent durability.
Rush has a natural purification effect on air and a humidity control effect.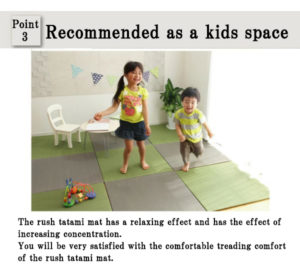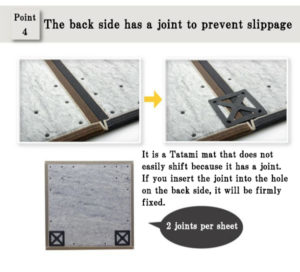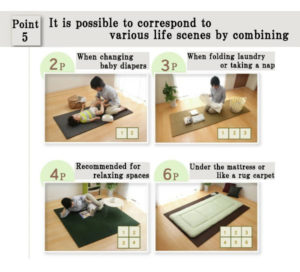 In addition, Hiba Essence is used on the surface of the rush.
""Hiba Essence"" extracted from Hiba tree in Aomori prefecture is processed on the surface of the fabric using the manufacturer's original technology.
Hiba Essence contains hinokitiol, a highly antibacterial ingredient as a natural substance.
(It has antibacterial and deodorant effects compared to unprocessed products)
Urethane foam with cushioning properties is used for the middle material. It is a soft and fluffy tread.
Since this product is a lightweight type, it can be easily carried for cleaning and storage.
A non-slip joint is attached to the back side so that tatami mats can be connected.
◆Precautions for use and care
・Wipe lightly twice with a dry cloth or rag before use.
Do not wipe with water as it may cause mold.
・If you spill water, it will not penetrate inside if you absorb the water early.
Do not rub strongly, but wipe with a tissue.
・For daily care, use a vacuum cleaner!
Vacuum along the grain.
・If you dry it in the shade regularly and keep it well ventilated, you can prevent the growth of mold.
・Since it is a natural material and handmade by craftsmen, the shape and display size may differ slightly.
Thank you for understanding.
‐‐‐Please check the following‐‐‐
* About shipping date
・Depending on availability, it may take 5-7 business days to ship.
* Holidays: Saturdays, Sundays and public holidays
・This item are shipped by Japan Post Express shipping.
* Shipping time of Japan Post Express Delivery
Asia: about 1 week
U.S.: about 1 to 2 weeks
Other area: about 1 to 3 weeks
Thank you for your understanding.
* TokyoStore is closed on saturdays, sundays, and public holidays.
* In rare cases, the stock may be out of stock because the stock is shared with other sales sites.
* TokyoStore does not collect any local duties, taxes or fees on international orders.
for countries that apply sales taxes and / or customs duties (esp. european countries), if applicable, those charges will be payable to local authorities before delivery.